Buffalo Ridge reads more than 7,500 hours
January 1, 2010
/
/
Comments Off

on Buffalo Ridge reads more than 7,500 hours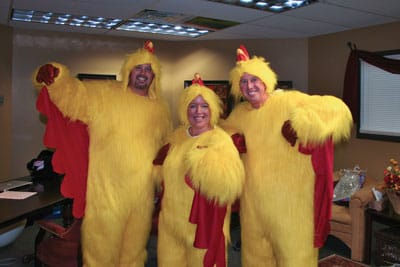 Pictured left to right: David Bowman – director of the childcare program at BRE, Ally Berggren – principal and Russ Jenson – assistant principal dressed in chicken suits and danced "The Chicken Dance" at an assembly held in the BRE gymnasium. The assembly was the reward for BRE students reading more than 7,500 hours during the month of November.
Article by Carin R. Kirkegaard and photo by Carolyn Major
Buffalo Ridge reads more than 7,500 hours – Principal dances in a chicken suit
During the month of November, a hush filled the halls of Buffalo Ridge Elementary (BRE) and even carried over into the halls of many homes. The students were busy reading. As part of the second reading event in a series of three, the students at BRE logged more than 7,500 hours of reading.
What gets the kids reading? BRE librarian Carolyn Major cleverly crafts reading incentive contests to inspire the students. The contest divides the school into two groups. The kindergartners, first and second graders compete and the third, fourth and fifth graders compete to see which class can read the most hours.
The class with the highest number of hours in each group wins a hot chocolate and caramel apple dipping party. For this particular contest, Little Italy Pizzaria also chipped in to encourage reading, and donated two seven inch pizzas to the top two readers in each class.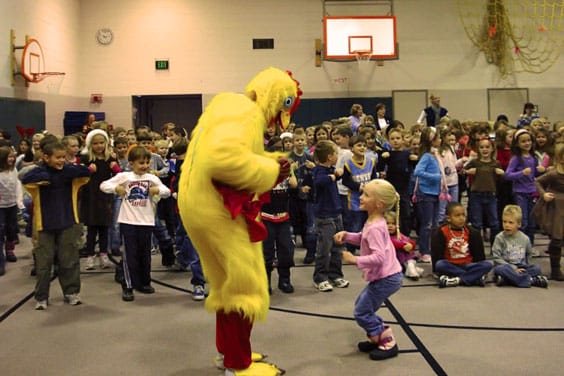 Perhaps the real incentive, though, was to see the school's principal Ally Berggren, vice principal Russ Jenson, and the B.A.S.E program director Dave Boman don chicken suits and dance "The Chicken Dance" for a school assembly.
Major organizes three reading incentive contests throughout the school year. The first was held in September and the final contest will be in the spring.