Buffalo Ridge publishes online school magazine
January 1, 2010
/
/
Comments Off

on Buffalo Ridge publishes online school magazine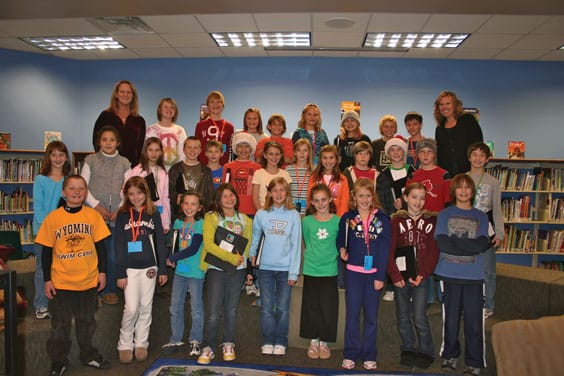 The Ridgeline staff, composed of fourth and fifth grade students, meets every Wednesday after school.
Article and photos by Carin R. Kirkegaard
With the start of the new school year at Buffalo Ridge Elementary (BRE), 37 fourth and fifth graders grabbed their press passes, cameras, notebooks and pencils to start reporting the news as it unfolds at BRE.
In November, the new staff of student reporters published the first issue of the Buffalo Ridge online magazine "The Ridgeline."
The Ridgeline has been an online student run publication for the past three years. The school's student council, the Dream Team, was responsible for writing and publishing the magazine for the first two years. Last spring the decision was made to separate The Ridgeline from the Dream Team.
Shannon Herzog, BRE fourth grade teacher, and Jennifer Wayne, BRE fifth grade teacher, have taken the helm of The Ridgeline and guide the budding young journalists as each reporter grows in his or her craft, whether that be strict news reporting or creating comics. With sections like Spotlight, Buffalo Speak, LOL, Score, Green Smile, Cool to Know and Ask the Buffalo, there is something for everyone.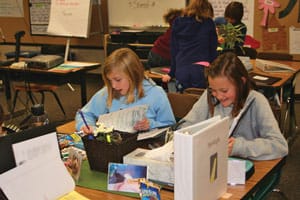 Hannah Hardison (left) and Annie Mimick work on stories. Below, fifth graders Jack Norris and Joel Carlson break it down.
The publication cycle for The Ridgeline runs every five weeks and while Herzog would love to have an actual hard copy to send home in every student's backpack, she realizes that times are changing and newspapers and magazines are turning more and more to online publication.
Herzog said the paper is a work in progress, and she is enjoying creating this opportunity for students at BRE. There have been talks with the award winning Rock Canyon High School newspaper to have members from the high school paper work with the BRE students and to have field trips to visit other publications are in the works as well.
To learn more about The Ridgeline or to view the most recent online publication visit www.waynesclass.org/ridgeline.