American Academy hosted speaker on student emotional resiliency
June 1, 2019
/
/
Comments Off

on American Academy hosted speaker on student emotional resiliency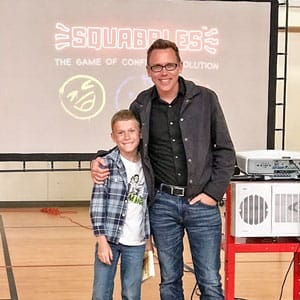 Brooks Gibbs (right) used a game called "Squabbles" to help with conflict resolution.


Information and photos provided by American Academy
Last month, American Academy (AA)hosted a parent assembly lead by Brooks Gibbs, a well-known speaker who focuses on helping children build emotional resiliency. Approximately 250 parents took part in the evening event.
Gibbs also spoke at several daytime student assemblies, reaching 1500+ students at the three AA campuses, including Castle Pines.
AA Student Support Services, a team of nearly 40 part- and full-time employees dedicated to supporting student achievement and mental health at school, worked hard for this high level of participation.
School counselor Emily Smith explained, "We deal with resiliency issues every day as our students face difficulties personally and socially. The message Brooks Gibbs gave to our student body promotes students' ability to cope with negative interactions in healthy, positive ways, particularly in peer to peer interactions."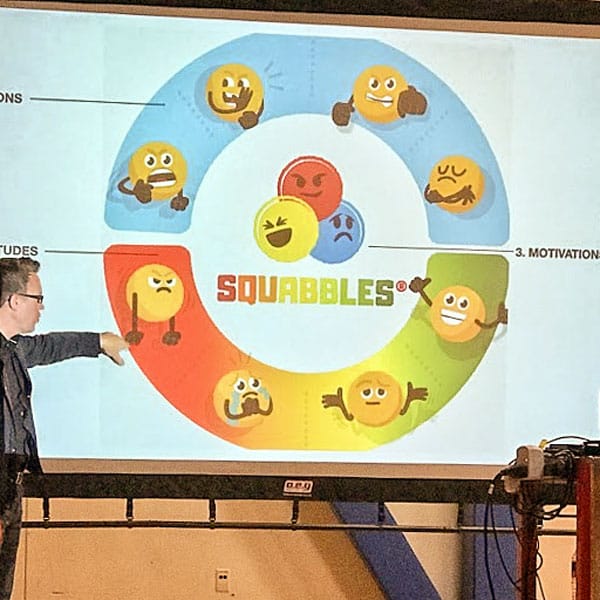 Gibbs used his emojimeter to demonstrate particular points and skills to students, staff and families.
As part of its school mission, AA emphasizes and teaches student character through two proprietary programs: "The American Academy Character" and "American Academy Manners." Gibbs' presentation on resiliency fit right in line with the school programs and provides teachers and parents with additional character teaching tools.
Jistine Harrison, director of student support services, said "social and emotional needs of youth today are increasing. Brooks Gibbs brought to our AA community a powerful message of emotional resilience and the importance of the Golden Rule." Teaming with Gibbs through this experience provided families and staff with skills to support students through their critical years at AA.
The presentations left parents, teachers and students feeling empowered. One parent commented, "I got so much out of this presentation, not only to help my kids, but to help myself!" Parent and student feedback was very positive and demonstrated a strong interest for AA to host similar events.