June 1, 2019
/
/
Comments Off

on BREXtravaganza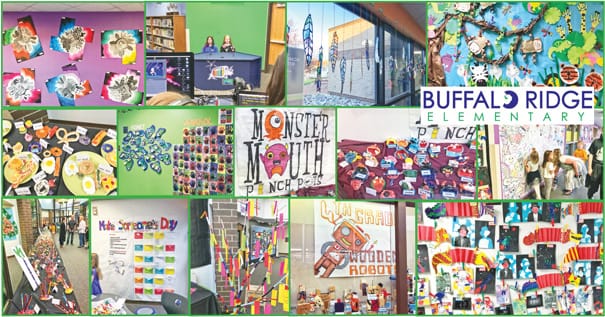 Article and photos by Celeste McNeil
Recently, Buffalo Ridge Elementary (BRE) school held an extravaganza evening billed as "BREXtravaganza." The building was open to students, parents, grandparents and anyone interested in seeing the amazing happenings at BRE.
The main hallways overflowed with masterpieces the students created in art class. The gym, filled with tables, held science fair poster boards and projects. The cafeteria was staffed with culinary students from Rocky Heights Middle School with treats for all. BRE TV was set up in the learning commons, allowing students to share some school news, and for parents to experience the news BRE style. STEM creations and games were on display in the learning commons and technology lab. The BRE band and orchestra both held mini concerts near the main office showing off the fruits of their year-long practicing.
The math club taught curious guests how to play a card game called 24®. Interactive art displays included a coloring wall. Perspective-altering photography also gathered a crowd. Additionally, a Japanese "wishing tree" was erected, where anyone could write a wish on a slip of colored paper and tie it to the tree. Art compliment cards were also available. A wall display with two dozen envelopes containing cards embellished with art and compliments were available for the taking and creating. The goal: Select a card, pay the compliment forward and give it to someone else.
In addition to all the evening's events, Buffalo Ridge Education Alliance (BREA) held an online auction. Two prime parking spaces, lunch with the principal and other teacher-sponsored experiences were available for bidding. Auction profits benefited the school through BREA. The event raised more than $4,000.
BRE bustled with excitement and energy as students eagerly guided guests through the crowds, looking for their creations and celebrating the accomplishments of another school year nearly finished.