Annual Race Supports School Programs
November 1, 2007
/
/
Comments Off

on Annual Race Supports School Programs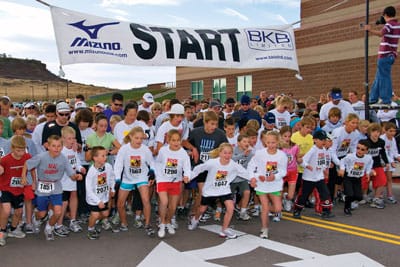 by Lisa Crockett
It is now a firmly-entrenched tradition. Castle Pines North (CPN) runners turn out in droves each November to show their school spirit, raise money and have a great time. This year's Rock Slide raised funds for local schools with more than 1,177 partipants. (Final fundraising totals were not available as of press time.)
Students at six of the eight participating schools call CPN home – Buffalo Ridge, Timber Trail, DCS Montessori, American Academy Charter, Rocky Heights Middle School and Rock Canyon High School.
Students from Redstone Elementary and Wildcat Elementary also participated.
"People seemed to really be having a good time, enjoying the weather and getting some great exercise," said race organizer Jenny Brett, a parent volunteer from Wildcat Elementary.
In years past, runners have braved the cold and even some snowflakes to participate in the run. This year's event featured overcast skies and cool, but not cold, temperatures – perfect conditions for a morning run.
Most of the participating schools hosted a series of preparation workshops to prepare young runners for the challenge of either the 5K or the one-mile fun run.
"We ran every week and earned 'foot' charms to add to a special necklace," said Buffalo Ridge fourth grader Natalie Hunt. "I had a good time with my friends."
Natalie's seven-year-old brother, Spencer, agreed. "This race made me stronger and healthier," he said.
That line of thinking was just what Brett had hoped for, with an emphasis not only on raising money, but promoting good health and fitness for students at participating schools.
After warm-ups with Premier Martial Arts instructor Joshua Thomas, runners set out on the course around Rock Canyon High School. Official timing devices were attached to each runner's shoe to give exact timing information.
Runners began to cross the finish line a mere 18 minutes after the start of the race, with one lightening-quick racer running an impressive seven-minute mile.
Trevor Cree, a 10-year-old student at American Academy, ran the one-mile fun run and was the first racer across the finish line. "To get ready, I ran around the house and played with my sister," he said.
Post-race festivities featured door prizes from sponsors and a pancake breakfast for all race participants hosted by the Kiwanis Club of Castle Pines. Prizes were given to male and female top finishers in every grade.
Rock Slide Winners – –
5K:
Pre-K: Landon Gimbel, 44:15, DCS Montessori;
Kindergarten: Kevin Kullick, 32:34, American Academy; Bianca Harris, 47:39, Wildcat Mountain;
First Grade: Kasper Gordon, 32:05, American Academy; Abigail Fox, 34:30, American Academy;
Second Grade: McGregor Durie, 25:12, Buffalo Ridge; Bailee Stones, 36:10, Redstone
Third Grade: Josh Pusar, 23:44, Timber Trail; Rylin Brett, 26:50, Wildcat Mountain;
Fourth Grade: Connor Huebsch, 23:17, Buffalo Ridge; Caroline Thomas, 32:49, Buffalo Ridge;
Fifth Grade: Will Steffe, 21:06, Buffalo Ridge; Heather Nicole Jordan, 27:02, Buffalo Ridge;
Sixth Grade: Jack Galyon, 23:28, Rocky Heights; Sydney Richardson, 29:27, Rocky Heights;
Seventh Grade: Matthew Smith, 22:38, Rocky Heights; Cassandra Hardy, 21:41, Rocky Heights;
Eighth Grade: Jacob Dysart, 22:01, Rocky Heights; Haley Olcott, 24:00, Timber Trail;
Ninth Grade: Danny Kappes, 19:55, Rock Canyon; Jennifer Sue Weatherr, 22:38, Rock Canyon;
Tenth Grade: Evan Almon, 39:56, Buffalo Ridge; Sara Lillard, 34:09, Rock Canyon High School;
Eleventh Grade: Joe Kappes, 18:08, Rock Canyon; Ashley Williams, 33:15, Rock Canyon;
Twelfth Grade: Dylan Orlady, 18:45, Rock Canyon
One Mile:
Pre-K: Connor Burns, 11:52, Wildcat Mountain; Riley Irwin, 12:23, Buffalo Ridge;
Kindergarten: Brennan Crock, 11:34, Buffalo Ridge; Madline Schley, 11:20, Timber Trail;
First Grade: Hunter Siemer, 8:47, Timber Trail; Cameron Jean Weber, 10:34, Timber Trail;
Second Grade: Aidan Uralli, 7:24, American Academy; Macy Raddon, 9:46, Timber Trail;
Third Grade: R.J. McLennan, 7:38, Buffalo Ridge; Georgia Raddon, 9:45, Timber Trail;
Fourth Grade: Sawyer Johnson, 7:41, Wildcat Mountain; Emily Sattem, 8:38, Timber Trail;
Fifth Grade: Keane Lyle, 8:34, Wildcat Mountain; Kendall Hogue, 9:10, Wildcat Mountain;
Sixth Grade: Nicholas Anderson, 7:05, American Academy; Kelsey Reed, 8:51, Rocky Heights;
Seventh Grade: Kaity Ross, 10:28, Rocky Heights;
Eighth Grade: Danny Manion, 7:17, Rocky Heights; Sam Pusar, 9:53, Rocky Heights;
Ninth Grade: Kara Becker, 10:48, Rock Canyon