December 1, 2014
/
/
Comments Off

on Are you on the list?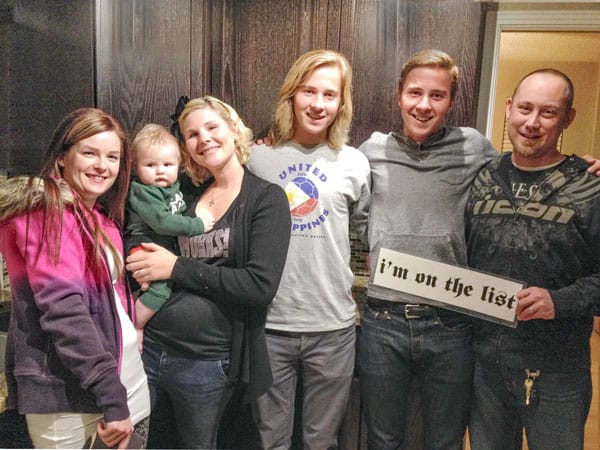 Candi Beach hosted an event to support Lukas Larsson and Love Hope Strength on Saturday, November 15. Pictured left to right: Alisha Bell (she got registered), Cash Beach (baby), Candi Beach, Lukas Larsson, Oliver Larsson, and Morgan Bell (he got registered … his dad lost his battle with leukemia last December).

By Elean Gersack; photos courtesy of Candi Beach and Dena Larsson
Last year, we introduced readers to Lukas Larsson, a Rock Canyon High School student in need of a bone marrow transplant. A lot has happened in that time … the biggest news of all is that Lukas is in remission and is able to be the active teenager that he is – playing soccer and skiing and loving life.
"He had an awesome high school soccer season with his twin brother, Oliver. Their Rock Canyon High School soccer team was undefeated and won the continental league. So great to see Lukas playing the sport he loves!" said Lukas' mom, Dena.
However, doctors believe that he will still need a transplant someday, so the search for a match continues. On Saturday, November 15, local resident Candi Beach hosted a facial and body wrap event through her company, Beach Wraps, with all proceeds supporting Love Hope Strength (LHS), a bone marrow organization supported by the Larsson family. Those who came out for the event took mouth swabs to get registered into the national bone marrow registry database in hopes of becoming a match for Lukas or someone else in need.
In fact, both Beach and Lukas' brother, Axel, gave swabs last year and were recently notified that each is a match for someone. "Such wonderful news! Axel hopes so much that he will have the opportunity to save a life," said Dena. "I'm standing by ready to donate!" added Beach.
Lukas' disease is very rare. His condition, called pediatric myelofibrosis, is only about 1 in 50 cases documented worldwide. "He still does not have a match of the 23 million people in the international registry. Thanks to LHS, Delete Blood Cancer, and people like Candi Beach, we will find a donor for Lukas," shared Dena.
The Larsson family continues to work hard to add more people to the registry list. People ages 18-55 can order a swab kit online at deletebloodcancer.org. When ordering the kit, select "Love Hope Strength" under the 'how did you hear about us' section. Simply fill out a one page form and do a 20 second cheek swab and then mail it postage paid. "The more people that get registered, the more lives that will be saved!" said Dena.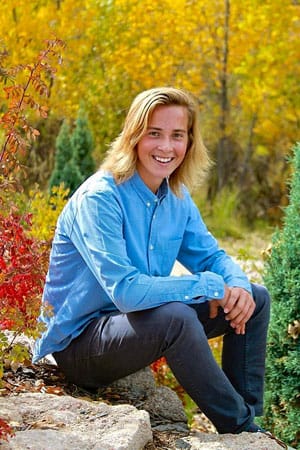 Lukas' high school senior photo. The picture of good health! His blood cancer is in remission but doctors believe he will still need a transplant someday.