Area volunteer helps kids find the right rhythm
February 1, 2010
/
/
Comments Off

on Area volunteer helps kids find the right rhythm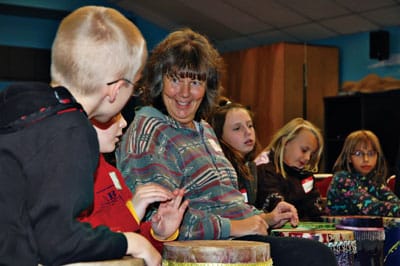 Oak Hills resident Roxy Fredrickson leads a drum circle of children of National Guard troops preparing for deployment. The circle teaches participants life concepts including respect, belonging and generosity.
Article and photo by Lisa Crockett
Oak Hills resident Roxy Fredrickson (pictured above) is not a trained music teacher, psychologist or social worker, but she knows a good thing when she sees it.
"Several years ago my friend Todd Strandberg was working with at-risk youth, teaching them the fundamentals of drumming. This was a group of teenagers that was going down the wrong path, but teaching them how to drum was a great way to teach them good social skills and life skills. It was amazing to see the change in these kids."
So amazing, in fact, that Fredrickson found herself drawn to the idea that drumming could change the lives of drummers in important and lasting ways. Soon she was volunteering more and more of her time to work with kids in a drum circle, teaching them concepts like respect and kindness along with rhythm and beat. As her work with the group evolved, Fredrickson and Strandberg formed a non-profit group to teach the fundamentals of drumming called RhythmVision. Fredrickson volunteers full time running the organization.
Inintially, Fredrickson and Strandberg were somewhat constrained by the cost of the hand drums needed to conduct their classes, but over time they developed a method for having participants construct their own drums at a substantially reduced cost. Drums cost roughly $60 per drummer rather than the $250 to $300 to buy pre-made drums.
"Initially our focus was at-risk youth, and we started working at schools with kids who had a high rate of discipline problems," said Frederickson.
After constructing their own drum, participants are taught the fundamentals of a drum circle, which includes concepts such as being a positive member of the community, belonging, independence, mastery and generosity. After several sessions of drumming together, groups often give public performances or make CD recordings of their work.
"A drum circle is a place where we improvise," said Fredrickson, "so respect is key to belonging."
That message of respect and generosity has obvious applications outside of drumming and has proved to be a valuable tool for teachers of kids who struggle with academic and behavioral issues. One school tracked the progress of students who participated in the program and found that not only did their behavior improve while they participated in the program, but well after the program had ended.
Fredrickson and Strandberg have found that the ideas of a drum circle are beneficial for many groups, not just troubled kids, but any group where belonging, security, and cohesion are beneficial. They have now taken their message to a much wider audience.
This fall, Fredrickson drummed with the children of National Guard troops preparing for deployment.
The first day of the group children ranging from elementary school to high school age gathered in a large circle to discuss what would be happening in the group. After a preliminary, free-form drum session, one young participant said, "banging on this drum makes me feel excited and happy."
A bit more drumming and another boy offered, "we're kind of like a drum family."
That feeling of community, according to Fredrickson, is what makes RhythmVision work. Throughout the course of her meetings with the National Guard group, she will lead discussions about stress management, anxiety and family dynamics – critical topics for the children of soldiers heading off to war.
"I love seeing the kids smile while they're doing it. Sometimes we start out and some of the kids won't participate because they think they're too cool. But it never takes long to get them involved. They can't resist."
For more information about RhythmVision, visit www.rhythmvision.org.