February 1, 2010
/
/
Comments Off

on Anyone for table tennis?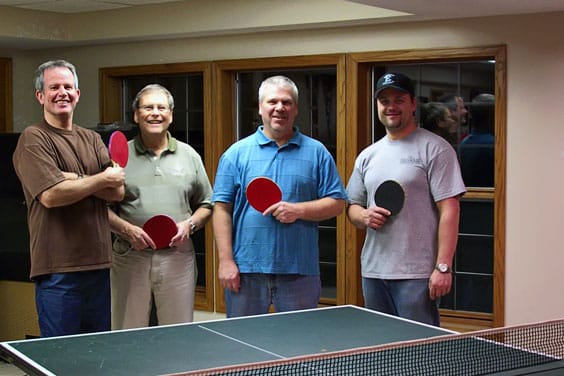 Pictured from left to right: Joe Franklin, Don Hansen, Sr., Dave Brewer, Don Hansen, Jr.


Article by Tracy Dudley and photo provided by Joe Franklin
Castle Pines North has its own group of table tennis fanatics. The Castle Pines Table Tennis Club (CPTTL) is a group of local residents who have been gathering together regularly for more than five years to play competitive ping pong.
Since table tennis is an indoor sport, the group typically meets only during the winter months. Every other week during Monday night football, you will find the members of CPTTL in a neighborhood basement playing best two-out-of-three competitive doubles ping pong matches. Despite their competitive streak, CPTTL members are fun loving, beer drinking , and looking for a few more players.
Residents looking for more information or interested in joining the club, should contact Joe Franklin at 303-688-8895 or contact by e-mail .