Bike program bolstering independence in special needs adults
January 1, 2019
/
/
Comments Off

on Bike program bolstering independence in special needs adults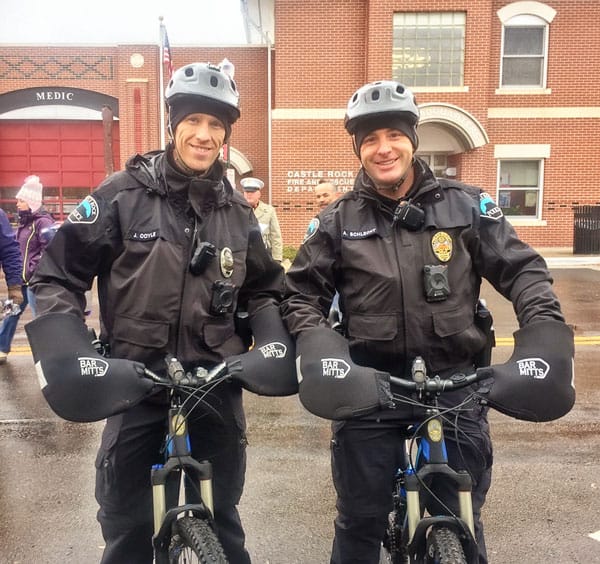 Officer Jacob Coyle (left) and Officer Austen Schlecht (right) enduring the freezing temperatures at the Castle Rock Starlighting to continue their involvement with the community.
By Catalin Varela, photo courtesy of Castle Rock Police Department
"To provide a sense of independence to an otherwise dependent community…" That was Castle Rock Police Department's mission when they partnered with nonprofit organization Wellspring Community to spearhead the Adaptability Cycling Program, a program for special needs adults to learn safe bicycle skills.
Wellspring Community is a place for adults with developmental disabilities to learn important skills that encourage independence. The community has endless activities for the individuals, including cooking classes, knitting classes, a cross-fit team, a commercial bakery, a dance team, a band and more. Ultimately, they fill in where the public education system leaves off.
Officers of the Castle Rock Police Department bike unit noticed that these special needs adults were learning so many great ways to be independent, but lacked a reliable mode of transportation. This need sparked the idea for the Adaptability Cycling Program, which has since become a significant contribution to the lives of Wellspring Community adults. The officers guide the participants through different stages of riding a bicycle, beginning with balance bikes and eventually resulting in them riding pedal bikes to and from their residence and workplace. They also teach them how to navigate the bike paths in Castle Rock and how to lock up bikes at their destination.
Castle Rock Officer Austen Schlecht, a key leader in the program, said "It has been pretty powerful to see folks that were dependent on mom and dad know they have a sense of independence."
Schlecht emphasized that they hope the Adaptability Cycling Program not only empowers the special needs adults, but inspires a spirit of acceptance within our community. When asked what he hopes to see in the future, Schlecht commented; "An awareness that there are special needs adults out there riding. Sometimes that looks a little different than you and I might look like riding a bike…they might be behaving differently in the roadway, but ultimately they are safe and they are using their bikes for independent travel." He went on to say, "Being involved [in Wellspring Community] has certainly broadened my horizons of what people are capable of, and perhaps we should not be so quick to judge a book by its cover."
Nonprofit organization Project ReCycle, which gathers discarded/donated bikes and refurbishes them, was kind enough to donate bikes to the individuals in the Adaptability Cycling Program. To express their gratitude, the riders and officers routinely volunteer their time to the nonprofit working on the bikes.
In closing, Schlecht encouragingly stated, "We are all in this crazy thing called life together, and we're all human, and we all exist within the spectrum of what each human is capable of, meaning we are all capable of doing anything…even those people who look different than us."
To learn more about Wellspring Community, visit www.wearewellspring.org/ and to learn more about Project ReCycle, visit projectrecycle.org/.