Bluebirds are coming back to Colorado
March 1, 2018
/
/
Comments Off

on Bluebirds are coming back to Colorado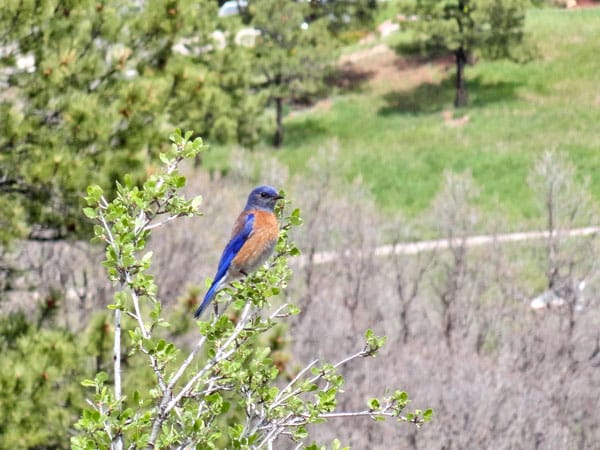 A Western Bluebird. Western Bluebirds perch or flutter among branches to take berries.
By Susan Helton; Mountain Bluebird photo by Dick Vogel, courtesy of the Colorado Bluebird Project; Western Bluebird photo courtesy of Barbara Spagnuolo.
Returning bluebirds are one sure sign of spring. In the Castle Pines and Castle Rock areas, birders have even spotted bluebirds as early as the second week of February. Of the three species of bluebirds found in Colorado (Mountain Bluebird, Western Bluebird and Eastern Bluebird), the male Mountain Bluebirds are the first ones to return. They are followed by female Mountain Bluebirds, then the Western and Eastern Bluebirds, although Eastern Bluebirds are most commonly seen only in eastern portions of the state. Bluebirds usually return to the high country later than they return to lower elevations.
"All the bluebirds then will be busy in March finding and defending territories around nest boxes, with eggs likely in nests by early April," stated Barbara Spagnuolo, natural resource specialist with the Town of Castle Rock Parks and Recreation Department. Bluebirds generally have two broods per season, but more are possible. "The breeding season extends until mid or late August, but the birds remain in our area until late October, then begin traveling south to southern Colorado, Texas or northern Mexico," stated Spagnuolo.
Bluebirds are social migratory songbirds who cannot make their own houses. They are second cavity nesters, which means they rely either on artificial nest boxes, natural holes in trees, or previously-used nesting cavities, such as old woodpecker holes. Bluebirds nest primarily in suburban and rural areas, so they benefit from man-made houses in these areas.
Anyone can install a nest box, purchased or homemade, to help the nesting bluebirds. The best choice of a box is one designed specifically for bluebirds. Nest boxes should be made of wood that is not pressure-treated, be able to be opened for monitoring and cleaning, and be mounted on individual posts to help deter climbing predators. For the construction and design for a bluebird nest box, visit crgov.com/DocumentCenter/Home/View/906. For more information about ideal nest box features, predator control and other nest box considerations, visit the North American Bluebird Society (NABS) at nabluebirdsociety.org/nabs-fact-sheets.
To help monitor and improve the vitality of bluebird populations throughout Colorado, the Colorado Bluebird Project operates under the guidance of the Audubon Society of Greater Denver. The Bluebird Project is a volunteer-run, hands-on, citizen-scientist program for families and volunteers of all ages. Project volunteers help build, repair and install nest boxes, and they monitor the boxes during the breeding season to collect important nesting information.
The Colorado Bluebird Project in Castle Rock needs volunteers to help with weekly monitoring of nest boxes and collecting valuable breeding activity information of Colorado bluebirds. For anyone interested learning more about the program and volunteering, the Project is offering nest-box monitor training Wednesday, March 6 from 7:00 p.m. to 8:30 p.m. at the Millhouse at Philip S. Miller Park, 1381 West Plum Creek Parkway, Castle Rock.
To learn more about bluebirds, visit nabluebirdsociety.org and audubon.org/bird-guide. For more information about the Colorado Bluebird Project in Castle Rock, visit CRgov.com/bluebird. To learn more about the Audubon Society of Greater Denver and the Colorado Bluebird Project, visit denveraudubon.org/conservation-research/conservation/bluebird-project.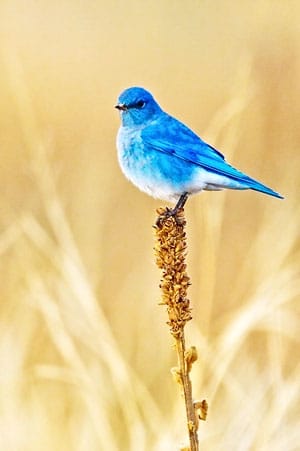 A male Mountain Bluebird perches on a mullein stalk.