Castle Pines: The 10-Year Celebration of a City
March 1, 2018
/
/
Comments Off

on Castle Pines: The 10-Year Celebration of a City
By Daniel Williams; photos by Terri Wiebold and courtesy of John Basche and Hutch Tibbetts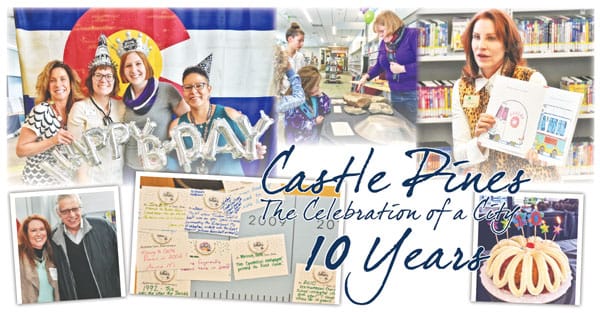 In February, the City of Castle Pines celebrated its tenth birthday old school-style with a party hosted by the Douglas County Libraries – Castle Pines. Complete with pin the city on the state, an "original businesses" cake walk, a community participation timeline of events and a historical collection of local artifacts and maps, the celebration was a culmination of a decade of community spirit, tenacity and volunteerism. To view a slideshow of the event, visit www.castlepinesconnection.com and click on "Photo Album."
At a recent library event celebrating Castle Pines' 10-year anniversary as a city, Mayor Tera Radloff stood before a group of children reading to them from "Tinyville Town Gets to Work!" Outside, snow fell, the first good snow of the year, coating the streets and trees in a winter wonderland – a picture perfect snapshot of just one aspect of the city's beauty.
As Radloff read on, the children, oblivious to the weather outside, shrieked and giggled between bites of bundt cake, holding close attention to Tinyville's tale, a tale of people working together to solve problems in order to make their community a great place to live – a tale not unlike Castle Pines' own.
"Tinyville is a wonderful story," Radloff said. "It shows how all the pieces of a community are interrelated and how new things and improvements to an area can benefit all."
In celebration of Castle Pines' first 10 years, The Connection spoke with many of the city's leaders and founders to hear their thoughts about the community's special qualities, as well as its beginnings, its first decade and an outlook on its future.
A Place of Beauty
When John M. Chase arrived with his sons in 1884 and claimed 3,000 acres that included the Beverly Hills area north of Castle Pines Parkway, he found a land decimated by clearcutting, but recognized the topography's inherent beauty. Over the next few decades, he would plant more than 7,000 trees and help in setting out an additional 10,000 seedlings, according to David Cragie's "The History of Happy Canyon."
And it is the area's natural beauty that continues to draw people to Castle Pines to this day. Located more than 6,400 feet above sea level and covering almost 10-square miles, Castle Pines offers breathtaking views. Doug Gilbert, an early city leader said, "When we decided to buy a home here in 1998, we were enamored with the landscape. If you go to the western edge of the city at Daniels Park, you'll find some of the best scenic views in all the state. It really is geographically and geologically a very unique and beautiful place."
True to Chase's early vision, city planners have put a premium on open spaces in the area since development began here.
According to census data, Castle Pines counts 560 acres of open space with 14 miles of bikeways and trails.
When Dick Lichtenheld and his wife, Eva Mitchell, moved to the area in 1996, they were drawn to the land. Lichtenheld, who was the city's first employee, said some master planned communities focus on volume, squeezing in houses on top of one another, but Castle Pines put an emphasis on keeping the area's natural beauty intact.
The couple bought a plot on the western edge of HOA-1 that was just right, a parcel surrounded by open space and trails. When people visit their home today, they notice all the undeveloped land around them as well as the community tennis court that abuts the couple's backyard.
"They ask me, 'oh, don't you get a lot of noise'?" Mitchell said. "I do, but it's happy noise. We love all the sounds of the community."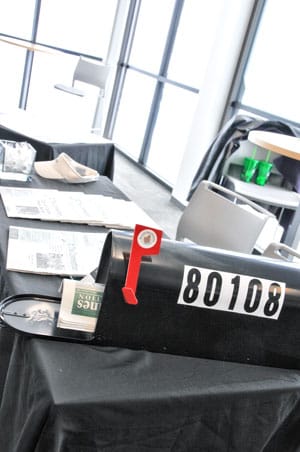 The Castle Pines Connection presented city leaders with an 80108 mailbox "time capsule" filled with historical memorabilia of the city's beginnings, including the first issue of The Castle Pines Connection newspaper.
Controlling Our Destiny
As development increased over the next decade and housing developments took hold, the area persisted as an unincorporated part of Douglas County. It might have remained that way to this day, if not for a 2006 Village Homes Association proposal to incorporate Castle Pines Village. That decision, according to Lichtenheld, would have encroached on what was then known as Castle Pines North and its retail tax base.
So, like the characters in "Tinyville," a group of folks banded together and formed the Citizens for the Preservation of Castle Pines North in order to save the community.
Maureen Shul, the city's first mayor, said, "We believed the plan for the Village to incorporate threatened the lifestyle we had come to know and love in our community. If they took our retail, they took our tax base."
After researching various alternatives and speaking with leaders of other cities, the group came to a conclusion. "We decided our best option was to push for incorporation," said Shul. "We saw tremendous opportunity here, but we also felt like it was now or never."
"We are surrounded by hundreds of acres of open space and blessed with amazing views …"
–Kim Hoffman, former city council
While there were some residents who wanted to keep the area unincorporated, an overwhelming majority (77 percent) voted yay, and on February 12, 2008, Castle Pines North officially became Colorado's newest city, a distinction it holds to this day. And, in 2010, the city would pass a vote to change its name to Castle Pines.
Growing Pains
Soon after incorporation, the city found itself with challenges. Consensus could not be reached on urban renewal plans or funding or taxes or, well, all the things that it takes to run a city and make it thrive. Also exacerbating the problem: just months after incorporation, the country was hit with the Great Recession, a global financial catastrophe that cratered the economy and put potential projects across the country on hold.
Jeff Huff, who served two terms as mayor, of Castle Pines said the key during this difficult time was having people work together as they "created the mechanisms of city government from scratch."
Even when there was division on how to proceed, Huff said, the passion people had for this community never wavered. "No," not every project got off the ground. And, "Yes," some retail departed, leaving gaps in the commercial district. But according to Huff, the 10,000-plus people in the community know they have something special here.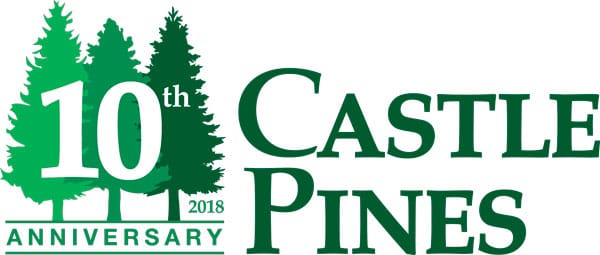 "People care about this place," Huff said. "Although the economy was hit hard and we had some growing pains, we were able to be creative and develop partnerships as in the joint effort we entered with the county to develop the land that houses the library and City Hall."
The Road Ahead
Time is relative. As a city, think of Castle Pines as a fifth grader, with a whole wide world of opportunity ahead of it. So, as we celebrate our first 10 years as a city, maybe we will have those occasional growing pains, and that is expected. But we also have much to be proud of, and others notice those special qualities, too. The city earned a spot on CNN Money's top 25 best places to live in America, and a Coldwell Banker survey deemed Castle Pines the number three suburban place to live in Colorado, and all in the first decade.
Opportunity abounds, according to former city council member Kim Hoffman. "We are surrounded by hundreds of acres of open space and blessed with amazing views. Our commercial area is on I-25 and we have a reservoir at our doorstep. In Castle Pines, we really do have a river of opportunity!"
Who knows what opportunities the next 10 years and beyond have in store? Already in various stages of development are new home communities – The Canyons, Castle Pines Valley and the Castle Pines Town Center. But how will those developments fit with the existing community?
Mayor Radloff understands that a key to moving forward and answering those and other planning questions will be in knitting agencies and people together through a unified approach. As she told The Connection, "Our people and community are unique and we have to strike the right balance in recruiting the right retailers and businesses to our city."
Whatever direction Castle Pines takes, one thing is clear, according to Radloff and the others interviewed for this story – the people of Castle Pines are as passionate about their community as they were ten years ago and they will have a strong voice in shaping the city's future.