Boosterthon boosts up the funds at Buffalo Ridge
December 1, 2015
/
/
Comments Off

on Boosterthon boosts up the funds at Buffalo Ridge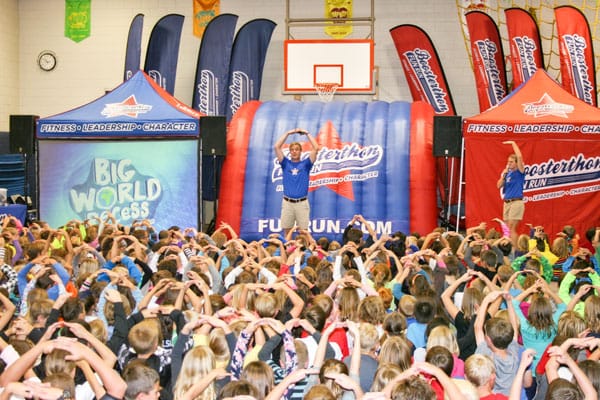 Boosterthon staff held a high energy pep rally in the BRE gym as a segue to their Big World Recess fundraiser.

Article and photos by Kathy Fallert
It was a cold and drizzly day on October 30, but that did not stop Buffalo Ridge Elementary (BRE) students from hitting their biggest fundraiser hard. Boosterthon was a huge success and raised more than $31,000 to help fund the school's 1 to 1 technology goal of having an iPad or Chromebook for each and every student at the school.
BRE Principal John Veit was previously with Rocky Heights Middle School where 1 to 1 technology has come to fruition. After talking with teachers and parents, the desire for 1 to 1 technology became clear. Veit went to the parent board (BREA) and it blossomed from there with a goal of 1 to 1 with iPads for kindergarten through second grade and Chromebooks for third through fifth grades.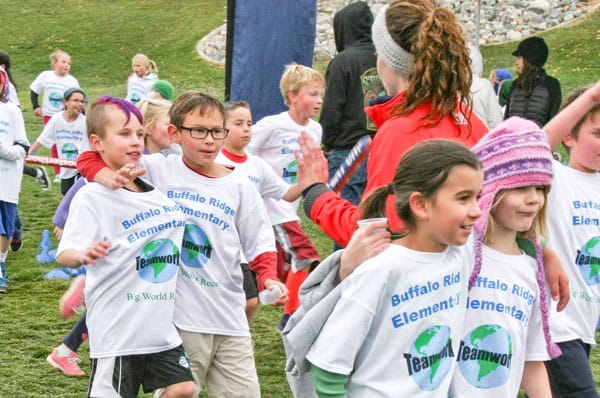 Students took a breather to pal around and walk a lap during Boosterthon on October 30.
After a week of preparation, learning about fitness, and lining up pledges, students hit the ground running with 35 laps being the maximum for pledges. Split into two tracks, parent volunteers checked off each lap the students completed. Music was jamming as the youngsters walked, ran, and danced their way around the courses led by the Boosterthon staff. Many kids went above and beyond the goal of 35 laps and just kept running.
Veit remarked, "The Boosterthon fundraiser was not just a fundraiser for our school. It was a great week-long event for our students. They learned about character building and fitness while raising funds. All of the $31,000 raised from the event is being spent on Chromebooks for our classrooms. I know the students are excited to get them in, and I can't wait to see them in their hands!"
The money raised from Boosterthon will get the school half way to its goal of 200 devices, including the iPads and laptops already owned by the school. To find out more about BRE and their 1 to 1 technology goal, visit www.sites.google.com/a/dcsdk12.org/buffalo-ridge.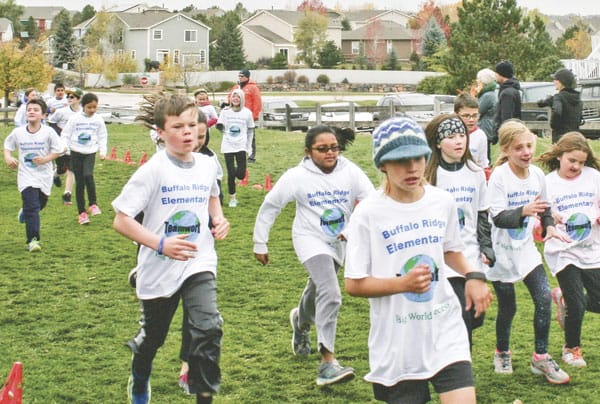 Kids ran hard in spite of cold, damp weather to reach their goal of 35 laps.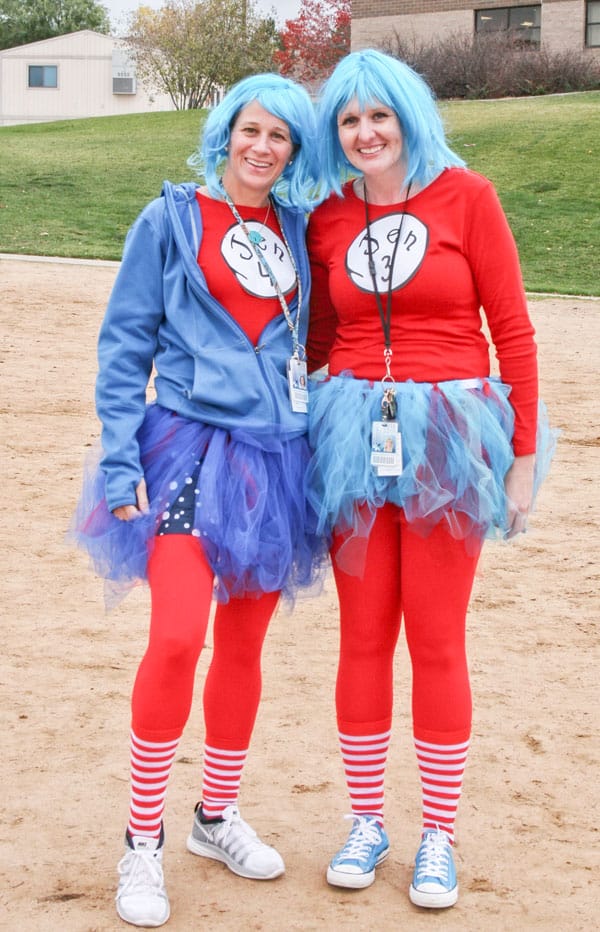 BRE staff dressed up to cheer on the runners as they raised money for 1 to 1 technology.