Art on the Edge gallery adds local color to Castle Rock
December 1, 2015
/
/
Comments Off

on Art on the Edge gallery adds local color to Castle Rock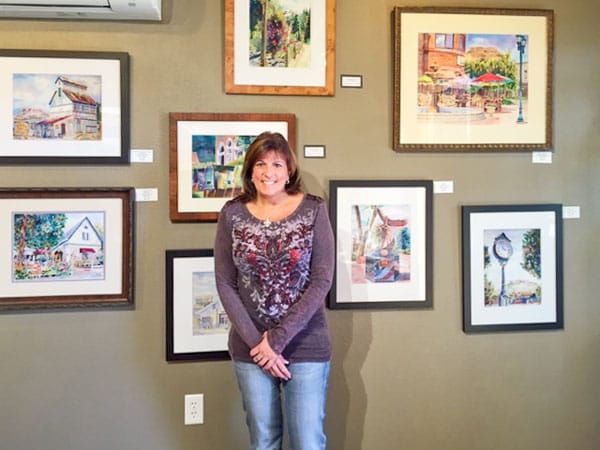 Cindy Welch is best known for her paintings of local scenery and historic buildings. She has been a GCRAG member for more than five years and is very excited about being a featured artist at Art on the Edge.

By Lynne Marsala Basche; photo courtesy of Cindy Welch
The newly redesigned Art on the Edge gallery is tucked into the heart of downtown Castle Rock, and whether visitors are art enthusiasts or casual browsers, it is a space everyone can appreciate. With pieces that compete with those found in larger cities and galleries, Art on the Edge is poised to feature the vibrant local Colorado art community.
The Art on the Edge gallery celebrated its grand reopening on November 6 with more than 30 artists displaying their work, including Castle Pines residents Jeanne Trueax, Sarah G., Jami Arthur and Cindy Welch. A crowd of several hundred people attended the reception and had the opportunity to view oil paintings, stone sculptures, watercolor works, wood burning creations, stained glass pieces, photography exhibits, and more.
In addition to featuring local Colorado artists, the Gallery is an active venue for book signings, art lectures and live music. Art on the Edge artists serve as hosts at the gallery, as well as teach classes.
Art on the Edge is home to the Greater Castle Rock Art Guild (GCRAG), which has a mission to connect art, education and the community. GCRAG is one hundred percent volunteer run and is a 501(c)(3) nonprofit organization. The Art on the Edge gallery is one of GCRAG's three main divisions. (The other two divisions focus on the education center and public shows in and around the community.) GCRAG is a strong supporter of the local community and participates in several outreach programs, such as art workshops for kids, teens and adults, as well as programs for those with special needs.
Whether you are looking for a special piece of art to complement a specific area, adding to a favorite collection, or even wanting a unique piece of jewelry, shop Art on the Edge. Stop by, learn about the artists and their mediums, enjoy the art, and maybe leave with a one-of-a-kind item.
For more information about Art on the Edge or GCRAG, including classes and public exhibits, visit www.gcrag.org or call Art on the Edge at 303-814-3300.