BRE brightens up; school unveils new logo
August 29, 2014
/
/
Comments Off

on BRE brightens up; school unveils new logo

Article and photo by Elean Gersack
Summer break isn't for everyone. Plenty was happening behind the scenes at Buffalo Ridge Elementary School (BRE) this summer to help gear up for another great year.
Over the summer, the walls around the building got a good cleaning before being brought to life. Gone is the boring beige wallpaper, and in its place are rainbow color painted walls perfectly suited for an elementary school.
According to Sarah McAfee, Buffalo Ridge Elementary School's principal, the school is now full of color, energy and vision. In addition to the brightly-colored hallways, collaboration corners and collaboration boards have been added to inspire interactive learning and communication among students, staff and parents.
Four times this year, the school will invite stakeholders into the building to witness student work firsthand. "This is a time that all grade levels celebrate their work and authentic learning," said McAfee.
In addition to the interior changes at BRE, the school revealed a new logo. Community member Dave Gaines of Gaines Design Group, LLC worked with the school's parent-teacher organization to come up with a clean and simple design that is both playful and contemporary.
With these logistics out of the way, it's time for students to get busy exploring and learning. It's going to be another great year at BRE!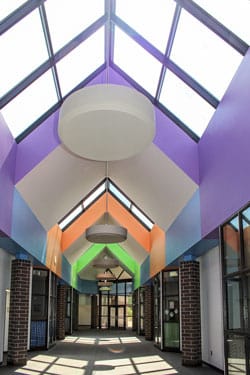 The atrium at BRE is a rainbow of colors now. Hallways throughout the school are painted in fun, bright colors.