BRE celebrates MacIntosh family through Evening with Arts
April 1, 2015
/
/
Comments Off

on BRE celebrates MacIntosh family through Evening with Arts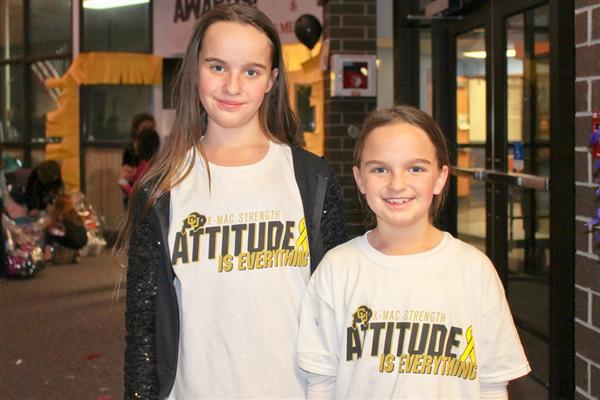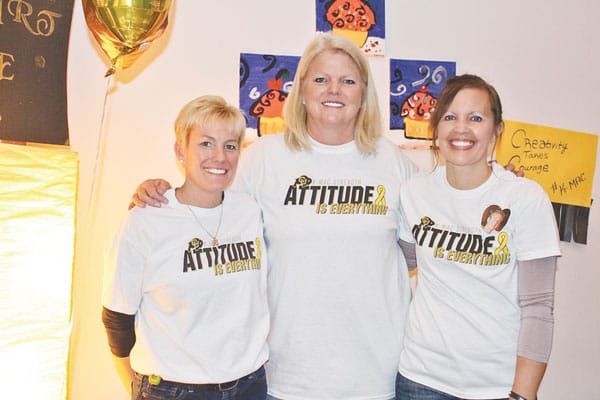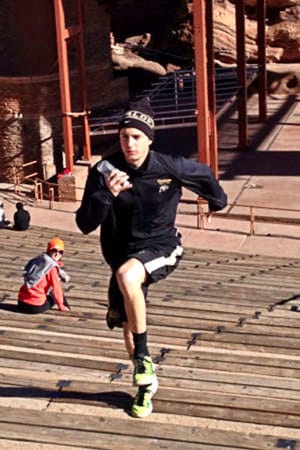 Fourth and second grade sisters Peyton and Georgia proudly wore their K-MAC Strength t-shirts during Evening with the Arts.
BRE Staff and Friends sold K-MAC Strength t-shirts at the event.

Kyle MacIntosh fought cancer head-on. He would regularly run the
stairs at Red Rocks after chemotherapy treatments. (Photo courtesy of
the MacIntosh family).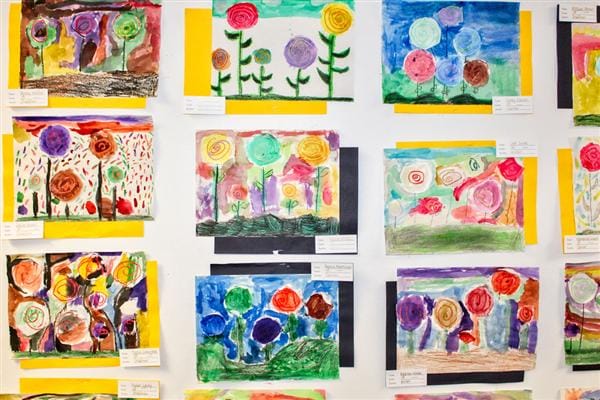 Floral art displays from first graders line the halls at BRE.

Article and photos by Elean Gersack; courtesy photo

It was a bittersweet evening on Thursday, February 26, at Buffalo Ridge Elementary school. Students, families and staff celebrated the arts while dedicating the evening to art teacher Nancy MacIntosh after the loss of her son, Kyle.
Hundreds braved the cold temperatures and snowfall to take in amazing displays of student creations that lined the hallways … both in sight and sound, while they supported a teacher and a friend who has been with the school since it opened in 1997.
MacIntosh's son, Kyle, was a superstar in his own right. An avid runner given the nickname "wheels" as youngster, he went on to race for the University of Colorado Boulder as a sprinter and hurdler. Trophies, medals and photographs fill his room to the brim. But, in the end, it is not the awards and wins that define this young man; it is his life as a son, brother and friend full of humor, determination and a never-give-up attitude who helped inspire others as he faced the toughest race of his life: Ewing's sarcoma.
After being diagnosed with the rare cancer in December of 2013 at the age of 22, Kyle fought with passion and grit and kept smiling as he pushed through chemotherapy, radiation and surgeries – "You can wake up and mope and cry you have cancer; or be grateful you have a fighting chance. Attitude is everything." Kyle passed away January 29, after suffering a brain aneurysm the day after Christmas.
This year's Evening with the Arts, organized by the school's parent-teacher organization, the BREA, became a dedication to MacIntosh and her family. "Nancy has been at BRE since the doors opened. She has touched countless children's lives throughout those years. To support Nancy and her husband, Bill, was the least we could do to honor their son, Kyle, and their entire family," said Sandy Cranston, co-president of the BREA. "This event will always hold special meaning within our school," she added.
In addition to the celebration of student visual and musical arts, the evening included a gift basket silent auction, teacher gifts of time auction, "K-MAC Strength" t-shirt sales, and a bake sale.
"Hosting events like Evening With The Arts and seeing our community join together, celebrate, and extend their generosity was an incredibly uplifting moment for our school," said Cranston. More than $16,000 was raised during the event with all proceeds going to the Kyle MacIntosh Memorial Fund. "The Castle Pines community (BRE) has been so supportive to our family," said MacIntosh.
The Kyle MacIntosh Memorial Fund was established by the BREA at Wells Fargo. Anyone interested in making a donation can still do so at any branch location through April 30.