Broncos player makes library appearance to promote reading
July 1, 2015
/
/
Comments Off

on Broncos player makes library appearance to promote reading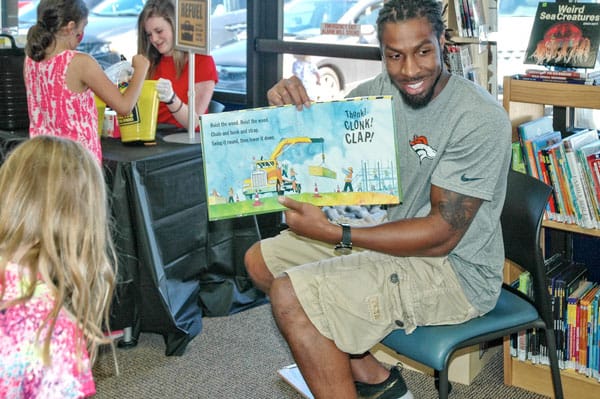 Denver Broncos player David Bruton read to kids at the Castle Pines Library last month as part of a celebration to kick off its summer reading program. Bruton recently started a charity to provide books to kids at underserved schools in Colorado.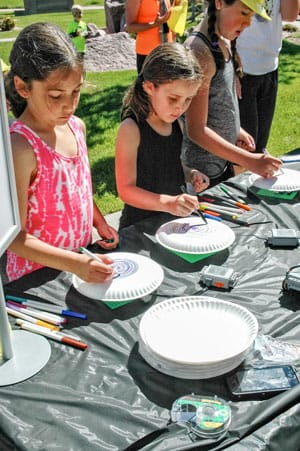 Arts and crafts were part of a celebration to kick off the Douglas County Libraries summer reading program.
Article and photos by Lisa Crockett
Denver Broncos safety David Bruton is passionate about reading. A former substitute teacher, Bruton knows how vital it is for kids, especially those in the early grades, to read each day. So it seemed natural for him to show up last month as a special celebrity guest at the Castle Pines Library's launch of its summer reading program. Bruton spent the morning reading to crowds of kids, joking and chatting with them while he read a picture book titled "Construction" about a town building a new library.
In addition to enjoying a good book with fans, Bruton was there to promote his new charity called "Bruton's Books," aimed at getting into the hands of kids from underserved schools who might not otherwise have access to reading materials during the summer break.
"We want to fight 'brain drain' over the summer," said Bruton. "We just started and have already collected hundreds of books. We gave them to students at four schools in Denver, which means they'll have books at home to read while they're on school break."
Bruton's appearance was a highlight during the celebration of summer reading for kids and adults in Castle Pines. In addition to storytime with a Broncos player, kids did arts and crafts, ate snacks, got their faces painted, and participated in several other reading-related activities.
"We're here to celebrate reading and encourage kids to maintain those skills they get during the school year," said event organizer Cherie Ellingson, branch program liaison for Castle Pines and Lone Tree. "Chipotle is here giving out freebies for people who sign up, Whole Foods is giving a surprise for participants who turn in their reading logs, and we're drawing six winners who will receive a Target gift card, but we really feel that the reading itself is the best prize participants will get."
The kickoff celebration of the reading program, dubbed the "Reading Zone" also enlisted the help of local volunteers like Regis Jesuit High School student Grace Butler, who manned the snack station at the event.
"I have had friends who helped out here at the library and I've wanted to get involved," said Butler. "This is fun, and a great way to get volunteer hours for high school."
The Douglas County Libraries reading program concludes later this month. For more library news, including information about the new, free-standing library opening in Castle Pines late this year or early next year, visit www.douglascountylibraries.org.
For more information about Bruton's Books, visit www.brutonsbooks.org.