Budget cuts cause bus stop dilemmas
August 1, 2009
/
/
Comments Off

on Budget cuts cause bus stop dilemmas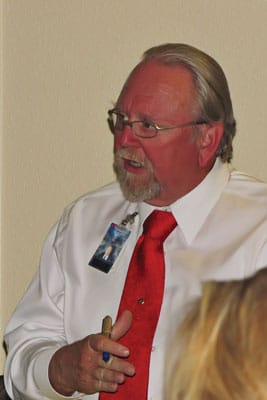 Director of Transportation for Douglas County School District, Paul Balon, answers bus routing questions at the Daniels Gate Club House.
by Tracy Dudley
A combination of recent state funding reductions and the failure of education bond issues 3A and 3B this past November has brought about deep budget cuts for the Douglas County School District (DCSD).
Budget reductions for the 2009-2010 school year prompted DCSD to redesign bus transportation routes. Logistics resulting from a reduction of 80 bus stops down to 15 has created quite a stir among local residents. On Wednesday, August 5, more than 20 parents used the regularly scheduled Ward 1 meeting at Daniels Gate Club House as a forum for discussion on this issue.
In an effort to keep the effects of budget cuts out of the classrooms, DCSD funneled a $2.4 million dollar decrease to its department of transportation. According to Paul Balon, Director of Transportation for DCSD, the district has switched busing to corridor routing with magnate bus stops—using an elaborate point system to determine optimal routes.
"Our goal was to shift transportation out of the neighborhoods and put more responsibility on the parents of students. We tried to find stops that were a good place for 10 to 15 students, yet still fell within the safety parameters," said Balon.
Residents from Ward 1 and Ward 2 in Castle Pines North challenged Balon on some of the bus stop choices, citing several safety, logistical, and environmental implications. Balon said that DCSD is very flexible in considering parent feedback is and willing to make some adjustments to bus routes.
"We are constantly reevaluating and making changes. We are sticking with the corridor routing system, but we are also listening to parents. We have already added another two to three bus stops on some routes."
According to Balon, DCSD held off resorting to corridor busing as long as it could, as both Cherry Creek and Jefferson County school districts switched to this system more than five years ago. Douglas County School Board President Kristine Turner reiterated the importance of accommodation during this process.
"We had to make big cuts this year," said Turner, "but there is some fluidity here. Nothing is set in stone. There is some give and take because this is about a partnership."
Area residents are encouraged to visit the transportation section of Feedback Central on the DCSD website to make suggestions or voice objections as the District works to optimize the busing system:
www.dcsdk12.org/portal/page/portal/DCSD/Central/Feedback_Central.