Big "Storm" hits HOA#1 pool this summer in CPN
August 1, 2009
/
/
Comments Off

on Big "Storm" hits HOA#1 pool this summer in CPN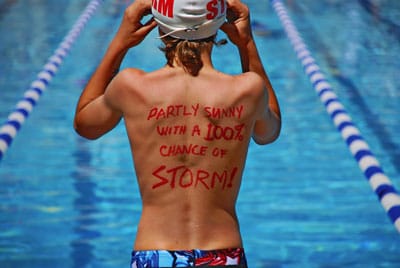 Part of the fun of the summer swim team is the ritual of marking of swimmers. Kids of all ages adorn their bodies with sayings like, "Eat my bubbles," "Kiss my splash," and the all-time favorite (pictured above) on Niko, "Partly sunny with 100% chance of STORM!" (Photo by Mark Meredith)

submitted by Lorrie Ball
The inaugural year for Castle Pines North Swim Team – Castle Pines Storm was a great success. More than 100 swimmers participated on the new CPN swim team and more than 70 percent of the team were first-time summer swimmers.
Storm is the second summer swim team to be started in the CPN community during the past four years, due to the tremendous demand for summer swim teams in our community.
Founding members – Gloria Aanenson, Lorrie Ball, Karen Deeley, Kristen Hutchins and Daryl Llewellyn, all HOA 1 members started the team last winter along with Coaches Kevin and Sarah Millerick. Storm Board President, Daryl Llewellyn says "the founding members saw a definite need for a second summer swim team and reached out to the HOA 1 Board, so that together they could fill the demand for a second summer swim team in CPN."
Parent volunteer Teresa Wilson says, "We had both our kids (10 and 12) on the new Storm Team and they both improved their strokes immensely. It's been fun to be a part of something new in the neighborhood. Thanks to all the volunteers who have worked so hard putting this team together."
Another parent, Christina Dolan (daughters ages 8 and 6) said, "The Storm has really helped my daughters reach their full potential through competition in a non-threatening manner. The coaches did an excellent job of encouraging participants to do their personal best which not only helps each participant individually, but also the team as a whole. We were thrilled with our summer on the Storm!!!"
According to Bal, Storm parents this first year were truly amazing! It has been a wonderful community bonding experience for all our CPN families getting to know one another and cheer each other's children on at swim meets. The dual meet with the Castle Crocs was a fantastic experience with more than 400 people watching and competing at the HOA 2 pool June 20th.
A big applause for the following swimmers who made All Stars for the summer of 2009: Joshua Deeley, Matt Givin, Alec Llewellyn, Ryan McCulley, Zak Moore, Mia Piccolotti, Nico Piccolotti and Addison Wagner. An All Star time is a predetermined time that a swimmer must match or beat, in order to have competed at the Mountain Hi Swim League All Star Meet.
Storm would like to thank all of our sponsors during our first year: Sylvan, Little Italy, SwimTech, Castle Pines Orthodontics, American Family Insurance – Jonathan Bogert, Paramount Custom Homes, Inc., Gloria Aanenson, Broker Associate with Keller Williams, Ireland Dean Designs, Doug Hutchins, Broker Associate with Kentwood.

(Photo by Lynn Zohorik)