Buffalo Ridge spellers bring it on
February 1, 2010
/
/
Comments Off

on Buffalo Ridge spellers bring it on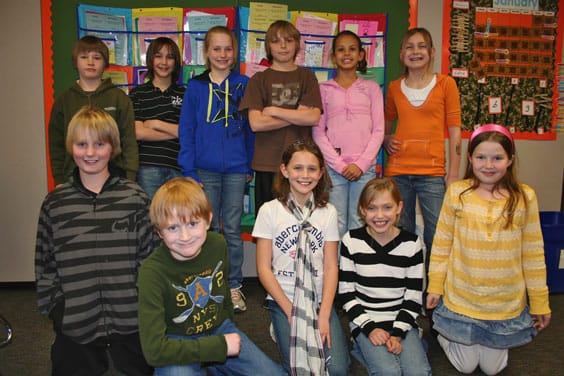 The Buffalo Ridge spellers from left to right: Brandon Oehm, Cameron Sanders, Karlee Shaffner, J.T. Snowden, Skylar Motlong, SydneyDozois, Charlie Keely, Truman Westberg, Rebecca Teeter, Jaiden Boyle, and Olivia Voss. Not pictured are Caroline Kampschroeder, Keara Werth, Kayte Mundwiller, Peter VanBenthuysen, Josh Martelon, and Sydney Emerson.

Article and photos by Carin R. Kirkegaard
During January, Buffalo Ridge Elementary (BRE) top spellers spent hours learning the origins of words like ubiquitous and spelling words like obsequious, all in preparation for the Buffalo Ridge Spelling Bee.
Fourth and fifth graders were eligible to take a qualifying written spelling test during December. The top seventeen spellers, Olivia Voss, Sydney Dozois, Caroline Kampschroeder, Karlee Shaffner, Charlie Keely, J.T. Snowden, Truman Westberg, Keara Werth, Brandon Oehm, Cameron Sanders, Jaiden Boyle, Rebecca Teeter, Sydney Emerson, Kayte Mundwiller, Skylar Motlong, Peter VanBenthauysen and Josh Martelon then moved on to compete in the BRE Spelling Bee.
Fourth grader Jaiden Boyle won the bee held January 21 in the BRE gymnasium spelling the word "commentary." Now Boyle, along with the winners from other participating Douglas County Schools will attend the District Spelling Bee at Northeast Elementary School on February 10.
"There were some tricky words, but you just have to trust your gut," said Truman Westberg, BRE fifth grader and top speller.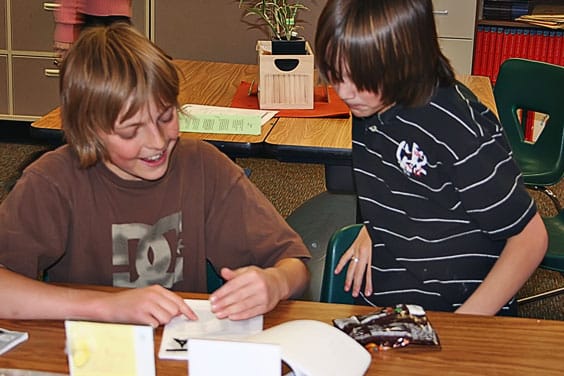 J.T. Snowden, pictured left and Cameron Sanders prepare for the BRE Spelling Bee at one of the after school practices in Mrs. Phelan's room held prior to the bee.