Canyon Elementary Instrumental Music program
January 1, 2010
/
/
Comments Off

on Canyon Elementary Instrumental Music program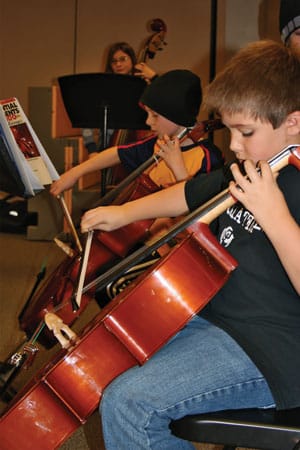 Students warm up with a "G" Scale at orchestra practice at Timber Trail Elementary.
Rock Canyon Elementary Instrumental Music program offers before and after music instruction in local schools

Article and photos by Carin R. Kirkegaard
Budding cellists, drummers, clarinetists, and horn players from Buffalo Ridge Elementary (BRE) and Timber Trail Elementary (TTE) have been practicing their arpeggios and scales with Debbie Davidson-Stanfill and the Rock Canyon Elementary Instrumental Music (RCEIM) program since the 2009-2010 school year began.
With the start of the new school year and budget cuts thoughout the district, the elementary school band and orchestra program for the students at the schools who will eventually attend Rock Canyon High School (the Rock Canyon High School feeder) went from being a program offered by the Douglas County School District (DCSD) to a fee-based before and after school program.
As the former DCSD elementary band teacher for the Rock Canyon feeder, Davidson-Stanfill offers a music program for students who would no longer have had the option to try band or orchestra in elementary school. To ensure there are enough students to support the program, Davidson-Stanfill offers band to all fifth graders and orchestra to all fourth and fifth graders at the four elementary schools in the Rock Canyon feeder area. This includes the two public elementary schools in Castle Pines North, BRE and TTE, as well as Redstone Elementary and Wildcat Mountain Elementary.
The new program allows Davidson-Stanfill more time spent with children than the previous program through DCSD. This year there are band and orchestra classes both before and after school at all four schools and students are able to attend classes at any venue, no matter which school they attend.
"It was really important to me to see the kids twice a week," commented Davidson-Stanfill.
Although, more face time also requires some families to travel to different schools for instrument lessons. Students in the orchestra need to attend classes at either TTE or Wildcat Mountain and band students need to attend classes at either BRE or Redstone. While traveling may prove challenging for some, other families are delighted to have the flexibility to take a class at a different time, continued Davidson-Stanfill.
Currently Davidson-Stanfill has 170 fourth and fifth grade students playing an instrument in either the band or the orchestra, while last year there were 200 students in the fifth grade alone.
"I think the percentage of involvement is down, as you would expect with it being a fee-based program," said Davidson-Stanfill.
In addition to lower numbers, Davidson-Stanfill also has 18 students who are receiving a scholarship in order to play an instrument.
The RCEIM program will hold a winter concert at Rocky Heights Middle School. To learn more about the RCEIM program visit www.rceim.webs.com.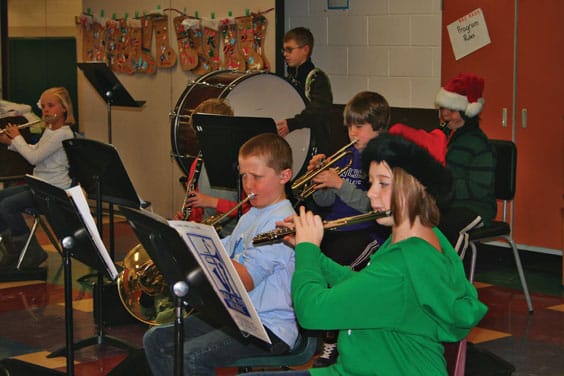 Students at BRE practice for the upcoming Winter Concert being held at Wildcat Elementary on January 14.