Castle Pines 13-year old dances his way to a world championship
October 1, 2011
/
/
Comments Off

on Castle Pines 13-year old dances his way to a world championship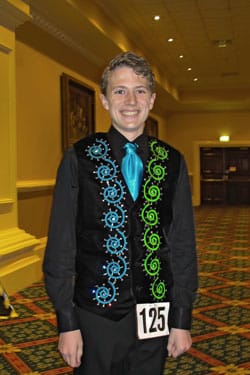 Brady Wiesner
by Amy Shanahan, photos courtesy of Michelle Wiesner
Brady Wiesner doesn't just walk across a room, he literally dances. Wiesner, a resident of Castle Pines Village and an eighth grader at Cherry Hills Christian School, is a World Champion Irish dancer. "I began dancing in the third grade because I wanted to be on TV during the St. Patrick's Day parade," confesses Wiesner.
Wiesner practices daily, attends classes four to five times per week at Celtic Steps dance school, and competes continuously. He has traveled all over the country for competitions and this past spring he competed at the World Championships in Ireland. Wiesner's road to Ireland was rigorous, having qualified by taking fifth place in the Western U.S. and placing in the top 20 in the U.S. during the Regional competition, called Oireachtas.
The World Championship competition was attended by representatives from 32 countries, and Wiesner placed 51st in the solo competition, fourth in the 8 Hand team dance, and first in the world in the 16 Figure team dance. In addition, he and 692 other Irish dancers achieved a record in the "Guinness Book of World Records" by performing the longest jig, where all of the dancers held hands and danced for five minutes and 45 seconds without stopping. Wiesner's teacher Shaun Casey said, "Brady has played an intricate part of our World Class Teams program this year; his unconditional drive and determination helped us lead our school to the top."
What makes Wiesner's story even more remarkable is that he was diagnosed with Type-1 diabetes just over a year ago. His sudden weight loss and other signs alerted his mom Michelle that something was wrong. Wiesner is now insulin dependent and gives himself shots four to five times per day. "It's not really a big deal, it just takes me longer to eat. I actually became more fit after the diagnosis and I started dancing better," he said.
Mom Michelle remarked, "Dancing saved his life. If he hadn't been doing all this physical activity, it would have been so much worse. It keeps him healthy. Brady is proof that you can do anything with diabetes."
Although Wiesner enjoys the competitions, his true love is performing. This coming March, he and his team will perform 20 shows in three days over St. Patrick's Day. "It's a great way to stay active, and it's so much fun to go dance and hang with friends and exert all my energy into something fun!"
To see Wiesner and others perform the world record jig, check them out on YouTube!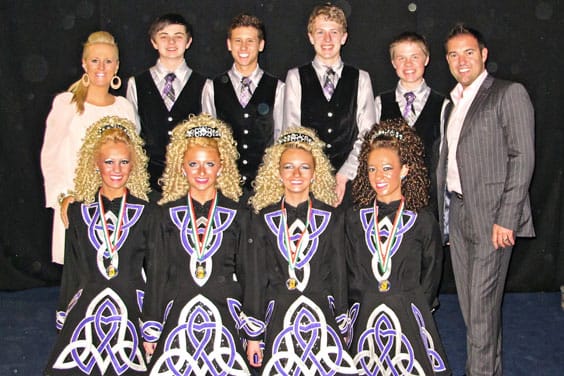 Brady Wiesner (top row third from the right) with his 8 Hand team and coaches in Ireland. The costumes were designed specifically for their team and feature the school colors.