AIM2Cure takes on childhood cancer
October 1, 2011
/
/
Comments Off

on AIM2Cure takes on childhood cancer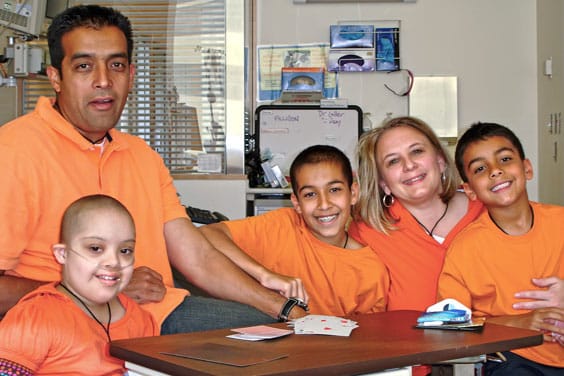 The Siddiqui family (left to right) –Aliyah, Saeed, Mikail, Regina, and Kadin.
By Elizabeth Wood West (photo from the Siddiqui family)
Gold is one of the beautiful fall colors of September. How fitting that gold, a color associated with the passing of a season, is also the official color for Childhood Cancer and that September is Childhood Cancer Awareness Month. That is why AIM2Cure, a new Douglas County non-profit founded in memory of Sapphire Pointe resident 12-year old Aliyah Siddiqui, chose gold and purple (Aliyah's favorite color) for its logo.
Aliyah Siddiqui was the daughter of parents Regina and Saeed Siddiqui, and sister to brothers Mikail (age 15) and Kadin (age 10). "We like to say she was in the 'sweet spot' between her brothers. We also like to say she had 'extra spunk' as she had Down Syndrome," said Regina Siddiqui.
Aliyah was only six years old when she was diagnosed with Acute Lymphoblastic Leukemia (ALL) in 2005. The family would spend the next five years managing hospital appointments, admissions, learning about multiple medications and their side effects, and monitoring for any sign of infection. The countless blood tests, x-rays, MRIs, scans, surgeries, and news from doctors of remission and relapse took its toll on the family. "Our life had a totally new perspective with unforeseen responsibilities. The lives of our young boys also had to be maintained and kept as normal as possible. This is only a fraction of what goes on when your child has cancer. Too many children lose the chance to have a carefree childhood – or a childhood at all – when diagnosed with cancer," Siddiqui said.
The Siddiqui's say they will never forget the years of pain, fear, and grief that their daughter and they suffered because of childhood cancer. However, they choose to remember Aliyah as their girly-girl who loved dresses, hot pink fingernail polish, painting and crafting, cooking, dancing and her signature talent show solo song, "My Girl." They will also remember that Aliyah was quite a fighter and never gave up hope.
According to Siddiqui, AIM2Cure ("Aliyah Inspired Moments") is dedicated to increasing awareness of childhood cancer, aiding families, and raising funds for research for new treatments and a cure for childhood cancer.
AIM2Cure Board Members include Amy Doyle, Andrea Bunker Marrese, Jenifer Linder, Julie Witonsky, Regina and Saeed Siddiqui; Advisory Board Members include Dain Linder, Laurie Hanlon, and Dr. Jessica Goodman. For more information, visit www.AIM2Cure.org.