Castle Pines Arts and Cultural Foundation bids a fond farewell
June 1, 2013
/
/
Comments Off

on Castle Pines Arts and Cultural Foundation bids a fond farewell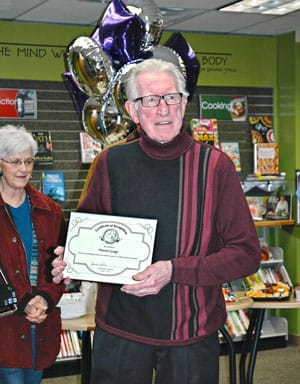 Castle Pines resident Warren Lynge has stepped down as the leader of the Castle Pines Arts and Cultural Foundation.
Article and photo by Lisa Crockett
"It is not a city until there's a library."
Those words, spoken by Castle Pines resident and volunteer extraordinaire Warren Lynge, epitomize his passion for the library in Castle Pines. Since moving to Castle Pines in 2006, Lynge has worked tirelessly on behalf of all the city's residents to bring – and keep — the library here. Early on, just after the city was formed, a ballot measure in 2008 that would have provided funding for a library was defeated, but Lynge remained firm in his commitment that a library would come to Castle Pines and worked tirelessly to bring one here. In May 2009, a storefront library was announced and is now one of the busiest libraries (per square foot) in the country. Plans are now being made for a free-standing library in the city.
On the heels of this success, Warren then took the helm of an organization with a broader mission – the Castle Pines Arts and Cultural Foundation. This group is tasked with bringing art, scientific and cultural activities to the community, and after nearly two years of service with this group, Lynge has stepped down in order to pursue other interests.
"It's been such an honor to serve with someone so dedicated," said Vicky Kellen, who serves on the board of the Arts and Cultural Foundation.
The board of the Foundation, currently comprised of Castle Pines residents Kellen, Joan Millspaugh and Sarah Tweed, is looking for two new members to join their team in their pursuit of ways to enrich the lives of Castle Pines residents. This fall, the group will host "Brass, Bagpipes and Celtic Echoes in the Mountains," a concert event hosted at Cherokee Ranch and Castle. Later this year, they will announce the sale of Castle Pines Christmas ornaments – something they plan to be an annual event.
"We plan to use money raised to do things to bring beauty into the community," said Kellen. "We envision things like public art, things that our community wouldn't otherwise have."
Prospective board members need to be positive, dedicated, reliable, creative and able to devote roughly six hours a month to meetings and committee work. Contact Joan Millspaugh by e-mail for an application or more information.
For more information about Brass, Bagpipes and Celtic Echoes in the Mountains at Cherokee Ranch and Castle on September 20, which will include tours of the castle, a cash bar, supper buffet, performance and dessert and coffee reception, call Cherokee Ranch at 303-688-4600.