Castle Pines girl goes cake boss
June 1, 2013
/
/
Comments Off

on Castle Pines girl goes cake boss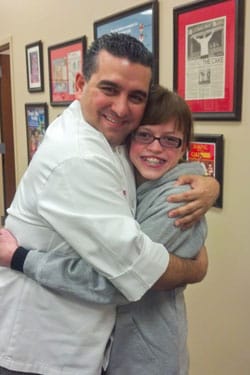 Madison Arey was welcomed with open arms by Buddy Valastro, star of the TLC show Cake Boss during her recent unannounced trip to the east coast.
By Kathy Dunker; photos courtesy of the Arey family
Madison and McKinsey Arey, residents of Esperanza, are fourteen year old twins who were born eight weeks early back in 1998. As a result of the premature birth, Madison suffered a brain bleed which left her with cerebral palsy (CP).
The form of CP Arey has is spastic diplegia, which requires her to have surgeries to realign her lower body once reaching maturity. Young Arey will be having a total of ten surgeries on July 17, two days before her fifteenth birthday. The surgeries will completely realign her knee caps, her femurs and her feet. Arey will be non-weight bearing for six weeks and will then take a full year to recover and learn to walk again.
Mom, Dee Ann Arey said, "Once we found this out, we asked her what she would like to do – anything at all – before she has to be out of commission. All she wanted was to go to Carlos Bakery in Hoboken, New Jersey. So we planned a girl's trip with her twin, my mother Janice, and myself. I tried to contact people at the bakery prior to our trip, but it's very difficult with all of the business they do." Carlos Bakery is a family-owned business where they film the TLC reality show Cake Boss. Madison has been a fan of the show since its inception in 2009 and knows all of the family history by heart.
So the Areys were off to New York and to the bakery in Hoboken. After waiting outside for 40 minutes, they got a ticket to go in. Once inside, they saw one of the sisters from the show, Lisa Gonzales. When it was their turn Dee Ann explained that they had come from Colorado to make Madison's wish come true and asked if they would take a photo with her.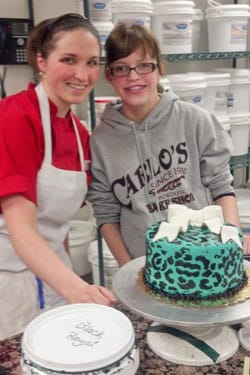 Madison Arey was invited to decorate her own cake with head decorator Liz White.
After hearing their story, Gonzales went and got her other sister Maddalena Castano who immediately welcomed the Areys behind the counter for photos. Arey remarked, "Madison was so overcome by meeting them that she couldn't even remember where we were from! It was the most delightful thing to see. They put a smile on her face like nothing we've ever seen!" Castano then made a quick call to Buddy Valastro, her brother and star of the show, and found out that he was currently filming at their factory. The Areys were told that if they could make it to the factory in 30 minutes, they could meet him also.
The driver rushed the Areys over where they were greeted by Buddy's wife Lisa Valastro and his assistant Vanessa. Buddy burst into the room and said, "Hey pretty girl, what's up? Today is your day! You get the run of the factory! You get to decorate your own cake and tour the factory!" Dee Ann recalls, "It was Easter week and they were slammed, yet they took all the time in the world with her. They had no idea she was coming prior to 30 minutes before! Madi and Kinsey decorated their own personal cake with the head decorator, Liz."
Later that same week, Madison and Dee Ann decided to go back to Carlos Bakery to get extra sweatshirts and treats to bring home. They had just planned to run in and pick up a few things before heading to the airport. However, they were in for a surprise. Buddy's mother, Mary had come in from Florida. They were invited back to meet her and were then told that Buddy was on his way over to film for the Cake Boss Easter special. Madison was invited to be part of the filming for the show!
As the Areys shared their story with the film crew, the producer was so touched by it that he offered Madison an opportunity to come back in a year and spend the day at the factory with them filming again. Dee Ann remarked, "All of this was amazing and unexpected. When I mentioned to mother Mary that I was so blown away by her childrens' grace and generosity towards us, she said in a very heavy Jersey accent, 'They better be! They were raised right!' These people are very genuine. They embraced Madison and told her 'you're family now! You take our numbers, you keep us posted and we will be praying for you!' They meant it. Madison had her own Make a Wish day!"
Madison will be a freshman at Rock Canyon High School this fall. Her goal is to walk as quickly as possible so she can go back to New Jersey and reunite with her new Cake Boss friends.