Castle Pines Community Church moving to new location in Castle Pines North
February 1, 2010
/
/
Comments Off

on Castle Pines Community Church moving to new location in Castle Pines North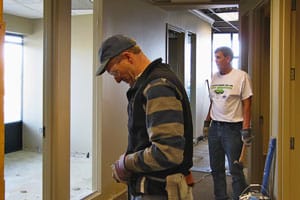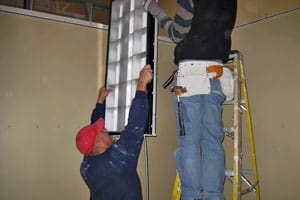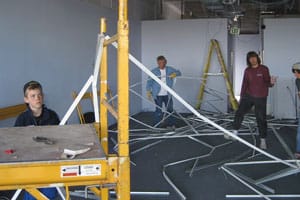 Article by Lisa Crockett
Photos courtesy of Castle Pines Community Church
After many years of renting space at a local elementary school, Castle Pines Community Church (CPCC) is moving to a home of its own in the Shoppes at Castle Pines Shopping Center on Lagae Road (in the same shopping center as King Soopers.)
While the church still owns a parcel of land on Clydesdale Road in the Surrey Ridge/Oak Hills area, there are no plans at the current time to move forward with construction of a church there.
"This is our next step," said Tom Curtright, senior pastor at CPCC. "We still own the land [on Clydesdale Road] and that continues to be a viable option, but this felt like the right thing for us to do now."
The church will occupy four "bays" of the shopping center for a space that is a total of 5,400 square feet.
During the process of finishing the space, the church will add a 500 square-foot mezzanine. The space will include a 220-seat sanctuary and rooms to serve nursery-, preschool- and elementary school-age children. The mezzanine will serve as a student ministries (middle school and high school) meeting space.
"We have really enjoyed being at Buffalo Ridge Elementary, and the people there have been great," said Curtright. "This new location will be a great opportunity for us to have a 24/7 space in the heart of the community."
Curtright said that the church is looking for ways to be a good neighbor, focusing on ways it can reach out to the larger community. CPCC sponsors activities and events that are open to members of the church as well as others who are interested.
At Christmas time, the church sponsored an event called "Christmas at the Sanctuary" at the Sanctuary Golf Club, which included a reading of the Christmas story from the New Testament, but also included plenty of time for singing and socializing. A church-sponsored group called "O2" – Outdoor Outreach – gets people together for hikes and snowshoeing expeditions.
"We feel that as we love our neighbors as ourselves, we lead people to become more curious about Jesus Christ and about Christianity," said Curtright.
Curtright said he hopes that having a dedicated space for the church will facilitate further development of such programs, as well as improving upon existing programs.
"Having our own space to design and decorate gives us a lot of options for how we do things, and particularly when it comes to ministering to children and students," said Curtright.
As of press time, an official opening date and time had not been set, but Curtright hopes to be in the space by Easter Sunday, which is in April.
To learn more about CPCC, call 303-663-9755 or visit www.castlepineschurch.org.