Castle Pines community garage sale sizzles
June 1, 2013
/
/
Comments Off

on Castle Pines community garage sale sizzles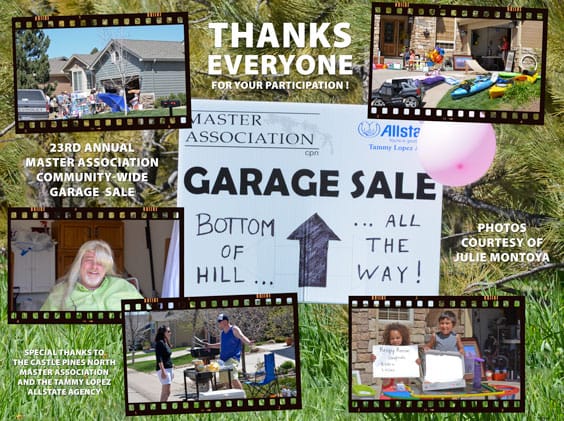 By Julie Montoya
From BrambleRidge to BristleCone, and all points in between, residents delighted in the 23rd Annual Castle Pines Community Garage Sale. More than three hundred Castle Pines residents participated in the sale, displaying items for sale from toasters to television sets.
The Castle Pines North Master Association sponsored and organized this annual event, which draws hungry shoppers from as far away as Colorado Springs. Excited shoppers flooded Castle Pines, and although the official start time was 9:00 a.m., many residents found shoppers coming as early as 5:30 a.m. to get first pickings … some even coming prepared with flashlights to look through items in the dark.
The community-wide event was a huge success with shoppers "scoring" hard-to-find items. Residents cleared out their closets and put a little cash in their pockets. Some residents took the opportunity to be entrepreneurs, setting up grills in their front yard and selling such items as hot dogs, hamburgers, and drinks. Some even sold coffee and donuts to their early-morning customers.
Plans for the 24th Annual Community Garage Sale are already in the works for next May. Visit www.cpnhoa.org for more information.