Castle Pines resident pedals for hearts July 20-22
June 1, 2013
/
/
Comments Off

on Castle Pines resident pedals for hearts July 20-22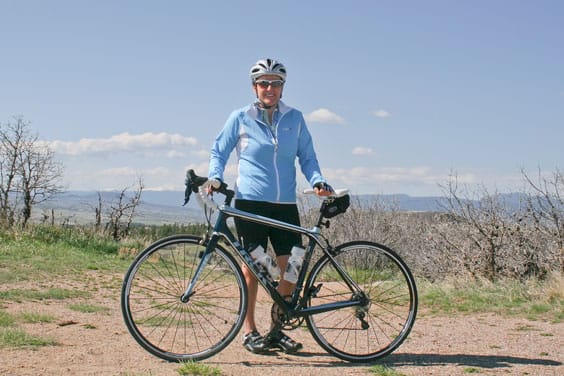 Cardiac device expert and heart advocate, Selina Ballabio, will pedal for hearts during the Children's Hospital Colorado Courage Classic on July 20 through 22.


Article and photo by Elean Gersack
The Children's Hospital Colorado 24th Annual Courage Classic is set for July 20 through 22. The three-day cycling event will begin and end in Copper Mountain. Twelve-year Castle Pines resident, Selina Ballabio, will cycle 155 miles with a team of 100 "Cardiac Climbers" to raise money in support of the hospital's Heart Institute. The team hopes to raise $250,000 collectively.
Ballabio is no stranger to heart ailments. For the past 30 years, she has spent her days and many nights and weekends in hospital cardiology units. Trained as an RN, Ballabio ventured into cardiology early in her career and spent nine years working side-by-side cardiac thoracic surgeons. While working with a device expert, she found her long-term calling by moving into the equipment arena and selling life-saving cardiac devices for Boston Scientific – and has been doing so for the past 21 years.
It's personal for Ballabio. She spends part of each day interacting with people, and their families, who suffer from heart disease. Last year she learned of several children of friends and neighbors in the community who were and are suffering from cardiac conditions requiring surgery and ongoing treatment. "After all these years of commitment to cardiac disease, it became really personal for me," she added.
Ballabio shares that although she was heartbroken at the news of these children's conditions, she felt very confident that they would get the very best care right here in Colorado at The Children's Hospital. "It's one of the top children's hospitals in the nation," she added.
Ballabio is training for the ride right here in Castle Pines with the "triple bypass". The three arteries off of Castle Pines Parkway – Monarch, Daniels Park Road and Hess Road, provide some of the best training around. She will train several days a week leading up to the event in July.
"I'm dedicating my ride to all of the kids in the community with heart conditions and specifically to my little buddy who underwent surgery last fall. I honor his bravery and that of his parents to take the necessary steps to correct his heart condition," said Ballabio.
Ballabio hopes to personally raise $5,000 for the heart institute. Join her by supporting Children's Hospital Colorado with a donation or by volunteering for the event. Learn more by visiting her personal Courage Classic webpage at http://www.couragetours.com/2013/selinaballabio.