Community clean up in Daniels Park
June 1, 2013
/
/
Comments Off

on Community clean up in Daniels Park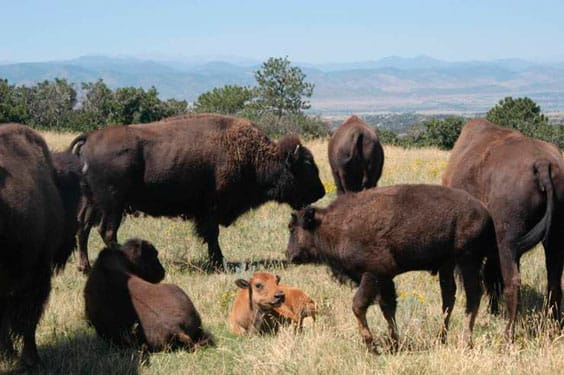 Buffalo graze at Daniels Park. Much of the 1,000-acre park is a buffalo preserve.
By Lisa Crockett; photo courtesy of City and County of Denver
Yes, it takes a village. Several different entities have responsibility for Daniels Park. The 1,000-acre park adjacent to Castle Pines is owned by the City and County of Denver as part of its Mountain Parks system. Douglas County is improving the trailhead, and the Douglas County Sheriff's Office enforces law and order in the park. But the most important group in the mix may well be the community – volunteer neighbors who want to preserve the views and the natural character of the park.
"Denver Parks and Recreation takes pride in the features of Daniels Park," said Matt Brown, operations supervisor for Daniels Park. "The bison, the pristine views, and the traditional prairie landscape are unique assets we hope the community will continue to visit and value for years to come."
Last month, a community group that included cub scouts, boy scouts and other volunteers carried roughly 100 bags of trash and other discarded items out of the park.
"The overwhelming amount of trash was what prompted my family's organization of this cleanup event," said Castle Pines resident Mark Graffiti, who helped organize the effort. "I might also characterize our involvement as a feeling of 'responsibility.' None of us should ever walk around our neighborhood thinking, 'I sure wish somebody would clean this up.' If it needs to be done, then do it."
During the course of the cleanup, the group discovered discarded household items, remnants of open fires, broken glass, and a device initially suspected of being a bomb, though that suspicion was investigated by, and later negated by the Douglas County Sheriff's Office.
If you want to get involved in helping keep Daniels Park beautiful, Denver Parks and Recreation offers the following suggestions:
To volunteer, call Denver Mountain Parks at 720-865-0900
Denver Parks and Recreation can accept donations online at www.denvergov.org/parksandrecreation; choose the Denver Mountain Parks option
When visiting the park, please pick up your trash and carry it out or use the receptacles provided
Remember the park is not a private dump for unwanted furniture, household items, or yard clippings
Open fires in the shelter area are not allowed in the park at any time; only use of park picnic grills is permitted when fire restrictions allow
Denver Mountain Park hours are one hour before sunrise to one hour after sunset
Call the Douglas County Sheriff's Office or 911 to report any suspected dumping or other illegal activity