Castle Pines Connection bids farewell to exceptional colleague, neighbor and friend
September 1, 2015
/
/
Comments Off

on Castle Pines Connection bids farewell to exceptional colleague, neighbor and friend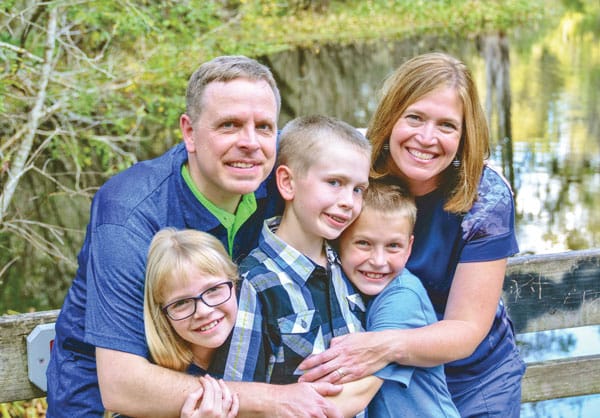 The Crockett Family (Richard, Lisa, Nora, Sam, and Ben) are heading north to Mankato, Minnesota. They are all set to make new friends, tackle the cold and try things like snowshoeing and cross country skiing. We will miss you all!
By Elean Gersack; photo courtesy of the Crockett Family
Lisa Crockett and The Castle Pines Connection go together like peanut butter and chocolate. So, it is with a heavy heart that we bid farewell to our dear friend as she and her family trek north to the fourth largest city in Minnesota – Mankato. There, they will start a new chapter in their lives as they celebrate a professional move for her husband Richard.
In 2003, Lisa and Richard moved to Castle Pines with one baby in tow. They welcomed baby number two within a few months and their third child 18 months later. "This is where our family became a family," shared Crockett. "Colorado will always have a very special place in our hearts."
From a young age, Crockett knew writing was for her. In high school she edited her school paper; in college she worked as a reporter for her student newspaper; and after graduation she worked in non-profits focusing on philanthropy and religion.
Crockett has been an integral part of sharing community news in Castle Pines for years, beginning in 2006 when The Connection was simply a quarterly newsletter sponsored by the Castle Pines North Master Association. Starting in 2009, her reach broadened with The Castle Pines Connection, which became the independent voice for the greater 80108 community.
Crockett has expertly reported on anything thrown her way including development news, school events, restaurant reviews and community volunteers. She also crafted the very popular Culinary Corner that features her tried and true recipes (or those from her favorite people and places) and corresponding photos (she notes with a snicker that her food photography skills have clearly evolved with time).
Thankful for the opportunity to pursue her journalism passion while raising her children, Crockett cannot say enough about her editor-in chief, Terri Wiebold. "She has a gift for helping people do their best and she has certainly made me a better writer," said Crockett. "Terri helps people find their way and I'm so lucky to have happened into this."
Crockett's dedication reaches far beyond her journalism circle. She is an exceptional friend, neighbor and community member. She has been involved in leadership with Cub Scout Pack #530 and the teen girls program at her church (the Lone Tree ward of The Church of Jesus Christ of Latter-day Saints). Crockett also served on the Timber Trail Elementary school PTO as secretary and president and in various other capacities for at least the past seven years.
Jenn Halves, one of Crockett's closest friends shared this: "My husband told me years ago to stop trying to be funny because no one gets my humor; well Lisa Crockett gets my humor and we laugh a lot together. She is one of the happiest people I know and I have never found someone who makes you feel so good about yourself. I will miss her and her family dearly."
Fortunately, Crockett will continue to write on a limited basis for The Castle Pines Connection, so her fans in Colorado will still hear from her from time to time. She suggests she might cook up some northern inspired dishes for her food column, perhaps a "hot dish" as they say in Minnesota or something with apples considering the Honeycrisp variety was hybridized at the University of Minnesota.
"I'm looking forward to getting to know new people. I love the Midwest – my mother's mother is from Wisconsin and everyone there reminds me of her. It is sad to say goodbye, but we are excited for what's to come," said Crockett.