All in a good night's sleep – and a remarkable pillow
September 1, 2015
/
/
Comments Off

on All in a good night's sleep – and a remarkable pillow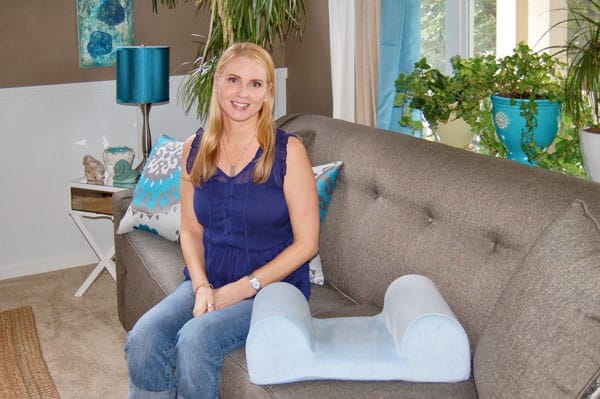 Louisa Wright is a Castle Pines resident who came up with a simple idea three years ago and has seen tremendous success with her product My Back Sleeper. The pillow (pictured here) forces users to remain sleeping on their back throughout the night.
Article and photo by Amy Shanahan
It took more than a couple of rough around the edges, homegrown Texas guys to shake up Castle Pines resident Louisa Wright. Wright recently made an appearance on the new CNBC reality show "West Texas Investor's Club" with her specialty pillow called the My Back Sleeper. Her appearance not only forced her to look more closely at her business, it also challenged her to confront personal fears and prove that she could hold her own.
My Back Sleeper is a pillow that forces the user to remain sleeping on their back throughout the night. Wright came up with the idea three years ago as a solution for women to avoid getting wrinkles on their chest and faces, and as a solution for beauty products to remain in place as opposed to rubbing off on the pillow during the night. Wright created a website and began selling her product online and found immediate success. The product has gone through several iterations and improvements and is now recommended by plastic surgeons and chiropractors, as well as spas. Wright explained, "It has so many uses other than beauty related and anti-aging. It may be used to force people to stay on their backs after knee surgery, rhinoplasty, chemical peels and numerous other procedures."
Wright was contacted by a casting agent last December to see if she would be interested in presenting her idea on a new reality show in order to acquire a financial investment in her company. At the time, "West Texas Investor's Club" had not aired and Wright didn't realize what she was in for. Wright assumed she would be filming in Los Angeles and instead she was taken to Midland, Texas and was asked to pitch her product to three Texas guys who drank beer, chewed on cigars and swore throughout the meeting. Wright was pleasantly surprised by the whole experience.
"They were very tough on me in the beginning – they kept interjecting. However, they were taking it very seriously and they were very bright and asked really good questions," Wright remarked.
In addition to pitching her product, Wright also underwent a series of challenges, one of which forced her to face her tremendous fear of heights. Wright explained, "The challenges were all about testing the quality of the person behind the product." At the end of her experience, Wright had only positive things to say about the unorthodox investors. "They are all about the person and are three of the most wonderful people I've ever met."
The episode of West Texas Investor's Club aired on August 25. To view the show and see if Wright received an investment in her wonderful product, visit www.cnbcprime.com. To learn more about the My Back Sleeper, visit www.MyBackSleeper.com.
Editor's Note: Another entrepreneur from Castle Pines was also featured on "West Texas Investor's Club" in August. Desiree Shank received funding for her concept Future College Fund, which was featured in the May 2014 edition of The Connection. To learn more about Desiree and her concept, visit www.CastlePinesConnection.com and type "Shank" in the search function.