A cruise down memory lane – fun for all ages
September 1, 2015
/
/
Comments Off

on A cruise down memory lane – fun for all ages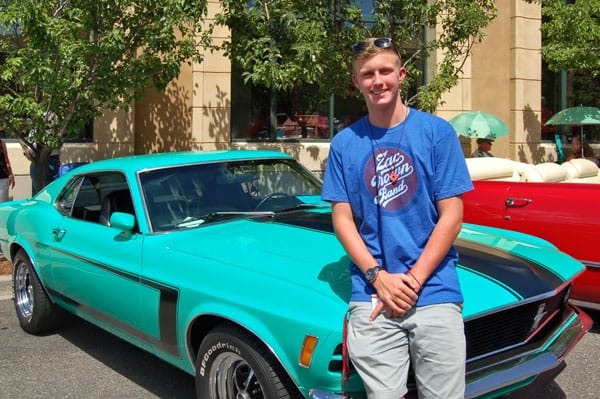 Logan Haselden enjoyed showing his vintage 1970 Grabber Green Mustang Fastback to the huge crowd that came out to enjoy the Hot Rods in the Village Car Show.
Article and photos by Amy Shanahan
The seventh annual "Hot Rods in the Village" car show sponsored by the Vintage Car Club of Castle Rock took place on a beautiful, hot day in August in The Village at Castle Pines. Several hundred people stopped by throughout the day to view and talk with the owners of the numerous vintage and classic cars.
The Fabulous Parker Brothers band provided music, the Douglas County Veterans Monument Foundation hosted a beer and wine garden, and a taco truck and Italian ice truck were also on hand. Tony's Market kept everyone fed with delicious grilled burgers and hot dogs, and the store roasted its famous green chiles on site.
Hot Rods in the Village is an event that car fanatics and collectors look forward to each year. Many of the cars on display are owned by members of the Vintage Car Club of Castle Rock, but the show is open to anyone who has a car that they are interested in showing.
At 16 years of age, Castle Pines Village resident Logan Haselden was the youngest car owner in attendance and was proud to display his 1970 Grabber Green Mustang Fastback. Haselden remarked, "When I was younger I was constantly collecting little cars and watching car shows. It didn't matter the type of car as long as it looked cool and fast. Once I got older I began to have a deeper appreciation for cars."
Haselden spent two years searching for the perfect car and was fortunate to find an older gentleman in Aurora who was looking to sell the Mustang in order to finance the rebuilding of an original 1968 Firebird. Although Haselden hasn't had to do much work on the car, he does enjoy tinkering with the engine and plans to complete several projects on the car this next year.
Haselden is brave enough to drive his vintage Mustang to Regis Jesuit High School every day. "My favorite thing about old and vintage cars is the emotions they evoke. When I drive my car it's all about the feel, the smell, the sounds, everything that engages your senses. When I was little I would always sit in my grandpa's 1940s jeep and the day we sat in my car to buy it, it had the same old car smell and something about that smell and feeling really put the stamp on buying the car," explained Haselden. "I also enjoy the happiness and joy it brings people when they see it. It may bring them back to a time when they were a kid or remind them of their love for cars."
The Vintage Car Club of Castle Rock hosts several events throughout the year. For more information, visit www.thevintagecarclub.com. To view a slideshow of the event, visit www.castlepinesconnection.com "Photo Albums."