Cancer prevention takes a radical turn – for the better
September 1, 2015
/
/
Comments Off

on Cancer prevention takes a radical turn – for the better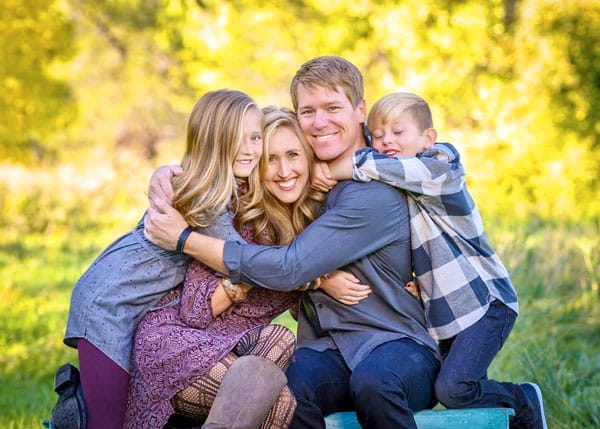 Tapestry Hills residents (left to right) Kieran, Cortney, Ryan, and Cale Williams. Cortney underwent a voluntary double mastectomy last year as cancer prevention.


By Kathy Fallert; photo courtesy of Courtney Williams
With Breast Cancer Awareness month just around the corner, genetic testing for the BRCA genes may be an option to consider. The BRCA gene test originated about 20 years ago and is a blood test that uses DNA analysis to identify harmful mutations in either one of the two breast cancer susceptibility genes BRCA1 and BRCA2. Women who have inherited mutations in these genes have a much higher risk of developing breast cancer and ovarian cancer than the general population.
Tapestry Hills resident Cortney Williams is quite familiar with the testing and its implications. Williams' mother, both grandmothers, and her great grandmother all passed away from breast cancer. Williams opted for genetic testing in September of 2013.
Williams recalled, "Testing showed that I did not have the BRCA gene but I was still diagnosed as high risk (greater than 26 percent) with personal/family history." Williams, a mother of two young children, took what some may consider the radical step to have a voluntary double mastectomy last year.
Williams remarked, "Physically, it sucked, I'm not gonna lie. Even though I sailed through surgery with no problems, I wrestled through some very painful days. Emotionally, when you look in the mirror at a chest that is completely bruised, with huge scars and drains and a pain pump still hanging from it, it is shocking!"
The first surgery in late April removed all of Williams' breast tissue and replaced it underneath the muscle with expanders, which are empty plastic bags that can be inflated. Williams had 3 separate "fills" of saline into her expanders until they got to be the general size she wanted. The expanders were the most painful part physically for Williams. She then had a second surgery in September of 2014 for reconstruction in which the expanders were replaced with implants.
Williams' husband Ryan, who also happens to be an attorney fought and won a long legal battle with their insurance company to get the surgery covered. He also reassured his wife many times over that she would not lose any of her beauty due to the surgery.
Williams recalls, "Now, being a year out from my most recent surgery, I have a freedom and a comfort that I've never lived with before. It was a very tough choice, and quite a bit to go through at the time, but completely worth it. My husband and I no longer live with the level of fear/anxiety when I visit the doctor, I have the contentment that comes from making proactive choices about my health and my body. My surgeons were incredible and I'm so happy with the physical results, but the emotional peace of mind is what matters the most to me."
Williams concluded, "I was linked up with a network of Bright Pink women who had already undergone the surgery. I don't think I could have done it without the wisdom, experience and support I've received from those girls." To find out more about support from Bright Pink, visit www.brightpink.org.