A coloring contest winner with taste
September 1, 2015
/
/
Comments Off

on A coloring contest winner with taste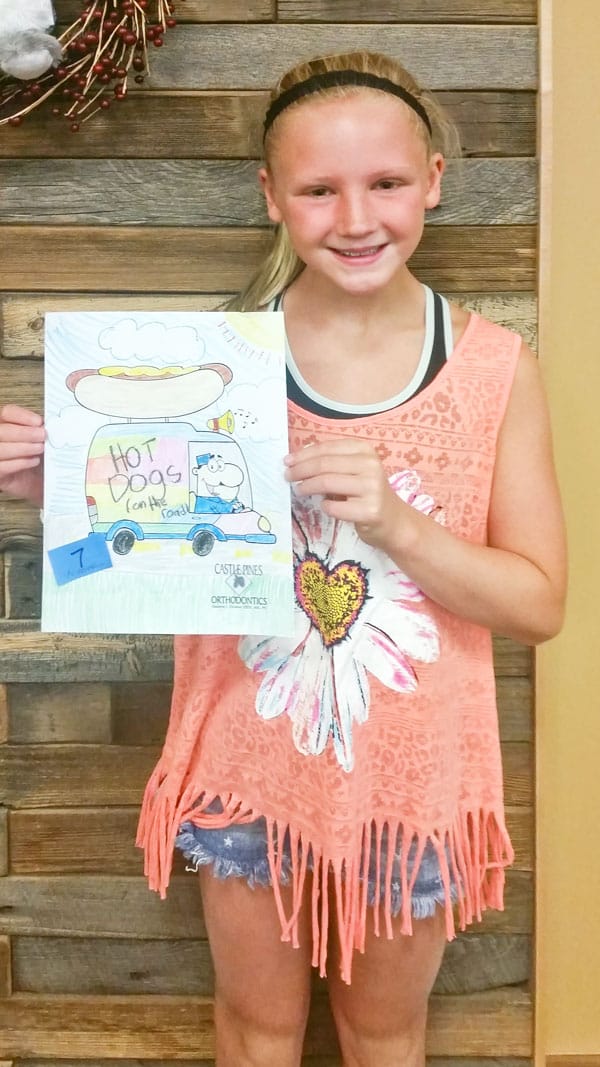 Ten-year-old Ferron Marx displayed her winning entry in the Food Truck Frenzy poster contest, which will be used for promotion of the event next summer.

By Lynne Marsala Basche; photo courtesy of Castle Pines Orthodontics
The Castle Pines Chamber of Commerce hosted its inaugural Food Truck Frenzy this summer, but food was not the only thing on the menu. In addition to an evening of enjoying diverse food trucks and listening to live music, kids had the opportunity to participate in a coloring contest sponsored by Castle Pines Orthodontics. The contest winner was Castle Pines' own Ferron Marx.
Approximately 40 contest entries were submitted, and the staff at Castle Pines Orthodontics narrowed the field down to seven finalists. Dr. Andrew Dunbar's patients then voted for the winner. (Names were hidden during voting for a fair and anonymous process.)
Marx, who is 10 years old and a fifth grade student at Timber Trail Elementary school won a $25 gift card to Toys R Us and is currently deciding how to spend her prize. In addition, Marx will have the honor of seeing her winning picture as the poster for next year's Food Truck Frenzy event.
According to Dr. Dunbar, "We were honored to be able to sponsor the coloring contest at the Food Truck Frenzy. We here at Castle Pines Orthodontics love to give back to this great community! Congratulations to Ferron for a job well done."
The Chamber believes that every event benefits from a touch of creativity and enthusiasm, and when a dash (or more) of color is added, the smiles are plentiful. Way to go Ferron!