"Mommy and me" day in Denver
September 1, 2015
/
/
Comments Off

on "Mommy and me" day in Denver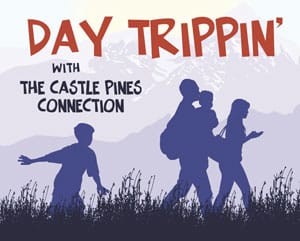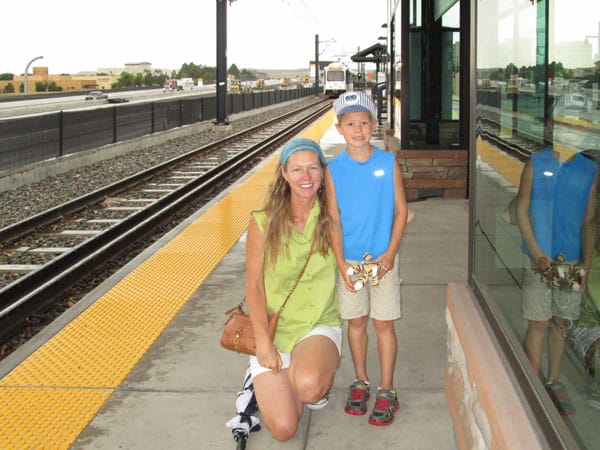 Liz Jurkowski and her son Wade waited for the light rail train at Lincoln Station in Lone Tree.
Article and photos by Liz Jurkowski
What little kid does not like a train ride? And what mom would turn down some real quality time with her son or daughter? On a beautiful summer weekend day, the best of both worlds jumped at me and my six-year-old son. Both tired of the same summertime activities around the neighborhood and trying to find some alone time away from the older brother, a great idea came to us as we were stuck in construction traffic one day on I-25 in Lone Tree.
"Let's go on one of those trains!" said Wade, my youngest boy, from the back seat. Sure enough, an RTD light rail train was moving past us, going at least double our speed.
In a split second, I said, "Sure, let's do it tomorrow. We'll spend the day in Denver together!"
The next morning, Wade put on his conductor's hat from his railroad costume, and before I knew it, the two of us were standing at the Lincoln light rail station getting our tickets to Union Station. Children, aged five and younger, are free. The one-way fare is $5 per person, but it is easier to purchase a round-trip ticket for $10 to save the hassle of finding a ticket kiosk at the end of a fun day. Seniors are half price.
As I sat back on the E Train for the forty-minute journey into Denver, relishing not having to negotiate through the traffic in the Denver Tech Center, Wade was having a blast balancing in the middle of the aisle of the train. He loved listening to the voice announcing the next stop, and had fun pretending he was racing the cars next to us on the Interstate.
Before we knew it, we were at the final stop, Union Station. The completely redesigned and rejuvenated station is worth a visit. It is easy to navigate through from the light rail section, and the main terminal made our eyes pop out as we opened its enormous doors. Restaurants, bars, a hotel, an ice cream and sweets stand, and multiple stores and bookstores lined the perimeter of the main room.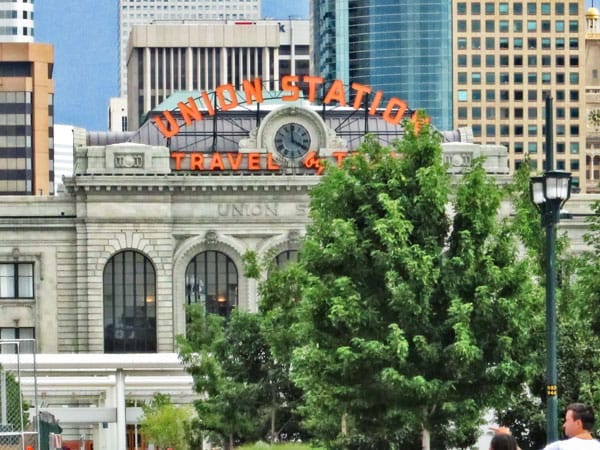 There is much to do outside the iconic Union Station in downtown
Denver, like visit the refreshing fountains, which are great on a hot
late summer day.

Outside, the fountains were like a splash pad of fun. People were sitting, eating, visiting and playing. Wade's mouth hung open and he giggled forever at the endless hours of fun he found in and around Union Station.
While we had grander plans, we ended up just staying and playing at Union Station. There is plenty to walk to from there, however. Coors Field and a baseball game is a short walk away. The shops, breweries and restaurants on Wynkoop Street are only a stone's throw away. Larimer Square, the 16th Street Mall and its many stores, the Denver Mint, the Denver Art Museum, and the Colorado History Museum are all easy to get to. Maybe even catch a play at the Buell Theatre or a musical at the Denver Center for the Performing Arts.
The attractions of downtown Denver are numerous and easy to get to with the free shuttle that departs every ten minutes from Union Station. Our mommy and me day was a real success.
September is a beautiful month in Colorado. Explore close to home. Hop on the light rail (line E goes to Union Station, line F ends at 18th and California), and spend the day with your child in Denver. It will be an experience you will both cherish!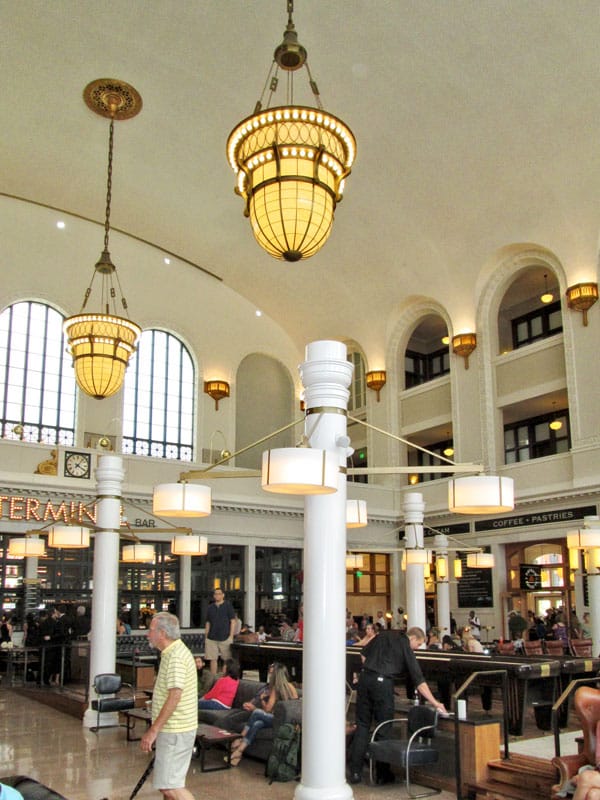 The remodeled Union Station has numerous stores, restaurants, and coffee shops.