Castle Pines family inspires hope for those with rare diseases
April 1, 2016
/
/
Comments Off

on Castle Pines family inspires hope for those with rare diseases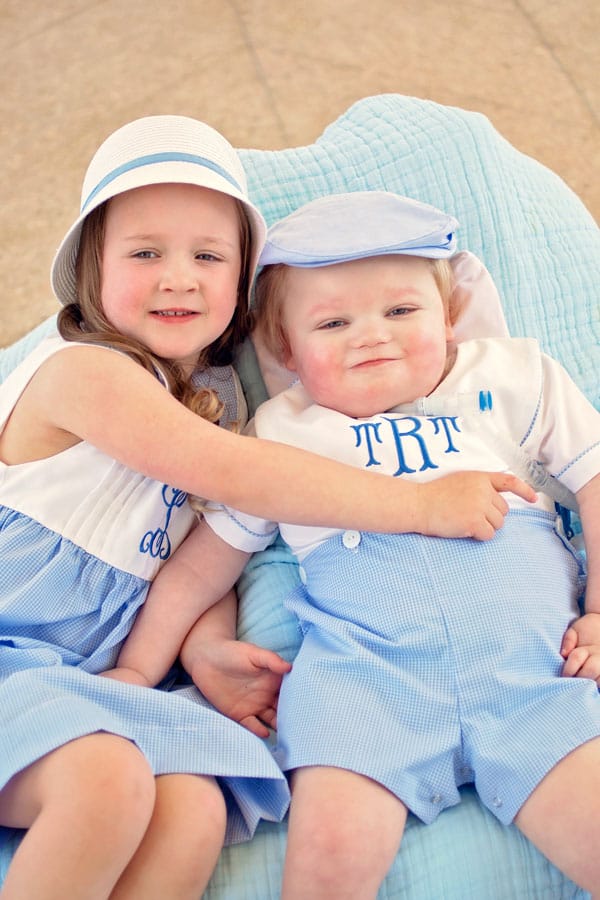 Truett Rosenlund and his sweet big sister, Savannah. His parents are working hard to raise awareness and gain research and funding for rare diseases. (Photo courtesy of Stephanie Newcomb.)


Article and photo by Elean Gersack; courtesy photos
A magical little boy who lives in our community was born happy and healthy in July of 2013. Two short months later, he acquired a common cold and ended up in the hospital with respiratory failure. He endured two Flight for Life transports, admittance to multiple hospitals, a collapsed lung, and an infection that resulted in sepsis. A week after the sepsis set in, he stopped moving his legs and within two months the paralysis traveled all the way up to his neck.
There is still no diagnosis for little Truett Rosenlund, who is now nearly three, but his fight and his smile are contagious. He is one of many who suffer from a rare disease; one that affects fewer than 200,000 people. According to Truett's mom, Priscilla Zahner Rosenlund, statistically one in 10 people have a rare disease, with two-thirds being children. Some of the diseases are extremely significant like Truett's and others are relatively minor.
Rosenlund, along with two other Denver area moms, spearheaded awareness for Rare Disease Day in Colorado on behalf of the National Organization for Rare Disorders (NORD) this year.
On February 23, the Rosenlunds came before the City of Castle Pines to speak on behalf of Truett. "Mayor Huff was so nice and welcoming," said Rosenlund. The council proclaimed February 29, 2016 to be Rare Disease Day in Castle Pines. "One of the more rewarding aspects of serving our city is being able to offer support and encouragement to families like the Rosenlunds and the causes that are important to them," stated Huff.
Other events were held at a Denver Nuggets game and at Children's Hospital Colorado. The three moms also spoke to lawmakers at the Colorado State Capitol where Rosenlund discussed policy and the challenges facing Truett, specifically access to care and how any further budget cuts for people with Medicaid would make access even more difficult.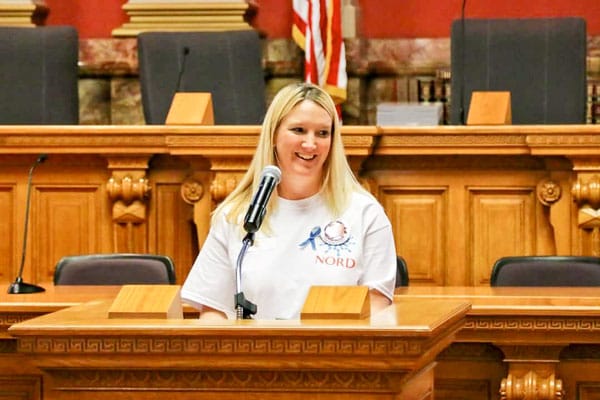 Priscilla Zahner Rosenlund speaks at the Colorado State Capitol on policy issues concerning rare diseases on February 29. (Photo courtesy of Lara Mark.)
Truett is cared for in a makeshift intensive care room at home, which is staffed around the clock by a team of six nurses who take turns working 12-hour shifts. These nurses, and the therapists who come regularly, have become an extension of the Rosenlund family.
Truett frequents Children's Hospital Colorado and has seen specialists at Johns Hopkins University and Children's Hospital of Philadelphia as well. There are differing opinions about his disease. Some postulate it is likely acquired and some suspect it is genetic.
Truett has made strides in his progress – slight movements including curling his fingers, lifting his feet slightly and holding his head up slightly for brief periods. Doctors are unsure if this is due to time and therapy or if it is related to a trial of Intravenous Immunoglobulin that he has received.
Truett's sweet smile and voice melt all of those around him. "He's a funny guy. He loves to laugh. He likes comedic movies like 'Minions,' 'Madagascar,' and 'Home' – anything funny. No princess movies!" said Rosenlund.

Truett's mom Priscilla (left) proudly displays the City of Castle Pines proclamation stating that February 29, 2016 was declared "Rare Disease Day." Truett and one of his nurses join her in the picture.
His mom feels strongly that with more awareness, research and treatment options, Truett will continue to improve and recover. "He's really strong. That's Truett. He keeps pushing and we keep telling him you can do it and he does," said Rosenlund.
To learn more about Truett, visit his public Facebook page "Truett's Voice." To learn more about Coloradans with rare diseases and to support future Rare Disease Day events, visit the "Colorado Rare" Facebook Page. Additional resources include NORD (www.rarediseases.org) and Symptoms Without a Name (www.swanusa.org).