A lifetime of service led to Castle Pines
April 1, 2016
/
/
Comments Off

on A lifetime of service led to Castle Pines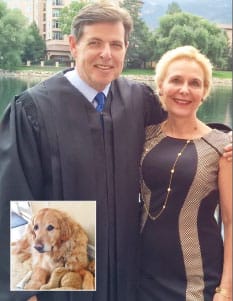 Retired Federal Judge William Downes and his wife Cathy love living in Castle Pines and credit their dog Buffy for helping them meet so many great neighborhood friends.
By Nancy Koontz; photos courtesy of the Downes Family
Distinguished Wyoming Federal Judge William Downes (Ret.) and his lovely wife Cathy looked everywhere in Colorado and "up and down the I-25 corridor" for their next home after Bill retired from the bench. They immediately fell in love with Castle Pines, which fit their needs perfectly. "We were impressed with the sense of community; it's like no other place we considered … we feel right at home here," said the Downeses.
Originally from Boston, Bill served in the U.S. Marine Corps from 1968 to 1971. He received his law degree from the University of Houston in 1974, started a private practice in Wyoming in 1975, and was nominated by President Bill Clinton to serve on the United States District Court for the District of Wyoming. He served as chief judge starting in 1999 and retired in 2011. The Downeses were fortunate to have met both President Clinton and his wife Hillary, and George W. Bush and his mother Barbara during the time Judge Downes served in Wyoming.
Bill also served on the Diocese of Cheyenne Finance Council, worked with Rotary's Read to Me program, and was co-founder of the Ewing T. Kerr Rotary Fellowship in American Law with Professor John Burman of the University of Wyoming. Together, they brought 15 law graduates from Russia to the United States to study American Law over a period of 15 years.
In his tenure, the judge also presided over cases in Idaho, Montana, Utah, Oklahoma, Arizona, Colorado, and New Mexico.
Bill now works for JAMS, the largest private alternative dispute resolution provider in the world, which employs neutral, retired judges and attorneys with exceptional mediation skills. With its prestigious, competent panel of facilitators and an almost perfect rate of success, JAMS specializes in "mediating and arbitrating complex, multi-party, business/commercial cases – those in which the choice of being neutral is crucial," according to Bill.
Cathy Downes grew up on Lake Michigan in Wisconsin. She and Bill met in Green River, Wyoming when he was just starting his law practice and Cathy was working in public relations while going to school at Western Wyoming College. They married, had twin daughters and moved to Casper, Wyoming where Cathy continued her education at Casper College and also worked as an IT department maintenance programmer. Four years later, their son was born, keeping the family busy attending soccer, basketball, and football games.
Once their children were grown, Cathy worked with a friend who owned a flower shop. Also near and dear to Cathy's heart was working with children who have "fallen through the cracks in the system." She served on the board of directors for the Youth Crisis Center (Casper, WY), working to provide emergency shelter and crisis intervention to children and families. She has also served on MOW and United Way committees.
Cathy is now serving on The Country Club at Castle Pines house committee, and she is the secretary of the Starbuck sub-association HOA board of directors in Castle Pines Village. Bill volunteers as a judge for the Air Force Academy, preparing students for mock trials.
The couple is equally grateful for all the friends they have made in Castle Pines and credit their dog Buffy (inset photo above) with being a "people magnet," helping them make friends wherever Buffy goes. What they love and cherish the most though, is spending time with and visiting their three children and six grandchildren, which Cathy and Bill say is their greatest blessing of all.