Castle Pines Parkway Interchange Could See Increased Traffic
February 1, 2009
/
/
Comments Off

on Castle Pines Parkway Interchange Could See Increased Traffic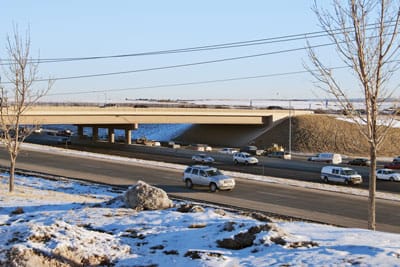 The Castle Pines Parkway exit 188 at I-25 could expect to see more traffic. The Colorado Department of Transportation (CDOT) plans to close the Surrey Ridge exits off I-25 with the completion of the new service road currently under construction from Lincoln Avenue in Lone Tree to Castle Pines North
by Lisa Crockett
Surrey Ridge exits to close with the completion of new service road on I-25
The construction of a new service road between the Castle Pines Parkway exit and the new RidgeGate exit a few miles to the north brings the reality of increased traffic one step closer for Castle Pines
residents.
With the completion of both the service road and the RidgeGate exit, interchanges at Schweiger and Surrey Ridge, exits 190 and 191, will close.
"It [closures of Surrey Ridge and Schweiger] will require drivers to use either the RidgeGate or Castle Pines Parkway interchanges, but it will improve safety for all drivers who enter and exit I-25," said CDOT Engineer Carrie DeJiacomo.
The Castle Pines Parkway interchange was upgraded nearly two years ago to handle increased traffic volumes that these closures are expected to bring.
Currently, the interchange at Castle Pines Parkway handles roughly 8,000 to 12,000 trips per day. CDOT says it is designed to handle roughly 28,000 trips per day.
Surrey Ridge residents can access their neighborhood using Charter Oaks Drive off of Castle Pines Parkway. Not all the increase on the Parkway exit will come from the Schweiger and Surrey Ridge closures. A connection between Castle Pines Parkway and Hess Road will also bring additional increases, as will projected growth over the next 25 years.
CDOT says the Lincoln Avenue interchange handles roughly 60,000 trips per day. The RidgeGate exit and the new service road are both expected to help relieve the Lincoln Avenue interchange.
Access to the Glendale Farm open space and Douglas County's dog park, which has already been relocated, will be unaffected by the construction of the new frontage road.
While both projects are tentatively scheduled for completion by early fall, drivers can also expect to see new construction with the I-25 widening project set to begin this spring.