Castle Pines students cut footloose in Valor arts production
March 1, 2013
/
/
Comments Off

on Castle Pines students cut footloose in Valor arts production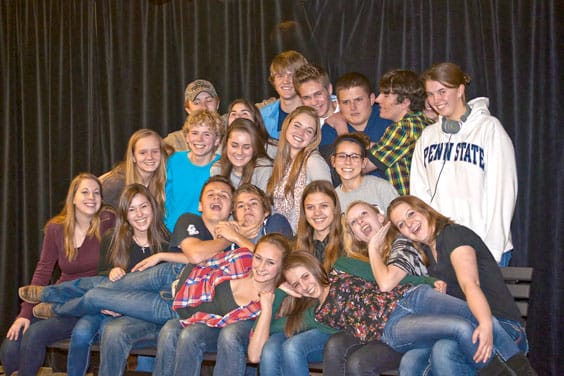 The cast and crew of Valor Visual Arts performance of "Footloose" like to cut loose on and off the stage. They all truly enjoy being part of a fun and very active production. Front to back, left to right: two ladies laying over the knees Virginia H and Elizabeth P. Second row, left to right: Emily-Lynn W., Melissa D., Mason A., Bishop M., Nicolette E., Haley N. and Melanie A. Third row, left to right: Ellie T., Justin K., Megan H., Bekah I. (peaking out from behind), Kelsie S., and Jess T. Back row, left to right: Drake B., Tyler T., Dylan R., Tom B., Matt K., the chin of Christian V (in back) and Micah O.
Article and photo by Julie Montoya
Everybody cut footloose … is exactly what Valor Visual Arts students, including ten students from Castle Pines, have done as they perform in a fabulous and fun rendition of the musical "Footloose."
Ten Valor students from Castle Pines are part of the cast and crew that make up the Footloose performers: Residents Mason Aksamit, Melanie Allen, Mark and Tom Beaty, Kat and Kendra Knapp, Bishop MaGehee, Dylan Ruder, Tyler Traeger, and Emily-Lynn Warren make this musical a toe-tapping, energetic good time.
More then just a musical, these kids, along with Director Kurt Muenstermann, transform words on a page into outstanding productions. Their performances are expressions of the fire and passion these students feel for their craft, and for their theater family. Melanie Allen calls Valor Arts, "One big happy family." And that excitement and respect for one another make the creations that come out of Valor Arts, visually and spiritually amazing.
Mason Aksamit, who plays Willard in the musical says, "We are a family. Our life is here, and we love it!" Bishop MaGehee, who plays lead character Ren, calls the work, "A lot of fun, because regardless of what a day is like, we all work with so many people we know and love and really admire."
Melissa Dunn expresses the groups' feelings perfectly in saying, "One thing I appreciate the most is that this is not just a school department … we all get to worship and pray together, and we get to bring God on to the stage, and behind the scenes. It is incredible."
Tickets are still available for the "Footloose" Musical performances on March 7 and 8, at the PACE Center in Parker. For more information or to purchase tickets, visit www.pacecenteronline.org.