Check out the new equipment at Pilates in the Pines
March 1, 2013
/
/
Comments Off

on Check out the new equipment at Pilates in the Pines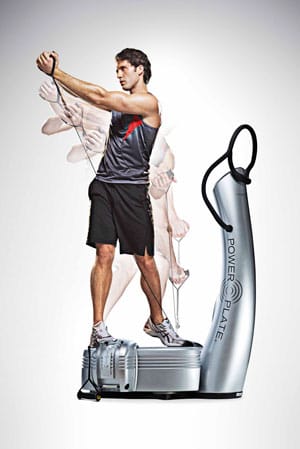 Pilates in the Pines is now offering new state-of-the art equipment. The new Power Plate equipment is used by NFL, NBA and MLB players throughout the country to help enhance overall athletic performance.
By Amy Shanahan; photo courtesy of Pilates in the Pines
Pilates in the Pines, located in The Village at Castle Pines, has some new equipment that owners Alana Norman and Cathy Bosson are very excited about.
"There are so many in our community who play tennis, golf, and who ski, the new Power Plate is a great way for them to condition and work on balance and strength issues," said Norman. "It really benefits all athletes and is an all around great additive to an every day workout."
The new Power Plate is a commercial grade, state-of-the art piece of exercise equipment that works the body's five key elements of movement: stretch, balance, core, strength and massage. It uses vibration to stimulate the muscles in the body at a rate of 25 to 50 contractions per second. The result is an improvement in strength, bone density, and overall performance. "A typical 30-minute workout equates to a standard 60-minute workout," remarked Norman.
In addition to the new Power Plate, the studio features GYROTONIC equipment, a series of specialized equipment, which works to stretch and strengthen muscles, while also strengthening the connective tissue around the joints of the body.
Norman helped clarify the holistic methodology, "The technique is based on spiraling, which teaches the spine how to spiral on three dimensional planes, and focuses on range of motion in stretching. It's a great complement to Pilates."
Pilates in the Pines will celebrate its 10th year in business this May. "Our overall goal is to get a person to feel successful with the different movements on the various equipment to achieve neuromuscular memory," said Norman.
Clients who frequent Pilates in the Pines come from all over the area, and from different backgrounds, but have created lasting friendships.
Pilates in the Pines is excited to offer several promotions during the month of March. New clients may receive ten sessions of Power Plate for $300, a $100 savings. The studio also offers ten Pilates Reformer group classes for $200.
Lastly, mark your calendars, and join Pilates in the Pines for its 10-year celebration open house on Saturday, May 4 from 1 p.m. to 4 p.m. Stop by for drinks and appetizers, visit with friends, and explore the fabulous new equipment.
Pilates in the Pines is located at 880 Happy Canyon Road, Ste. 145. For additional information, call the studio at 720-733-9307 or visit www.pilatesinthepines.com.