Castle Pines tween launches campaign to create "Siren Day"
July 1, 2013
/
/
Comments Off

on Castle Pines tween launches campaign to create "Siren Day"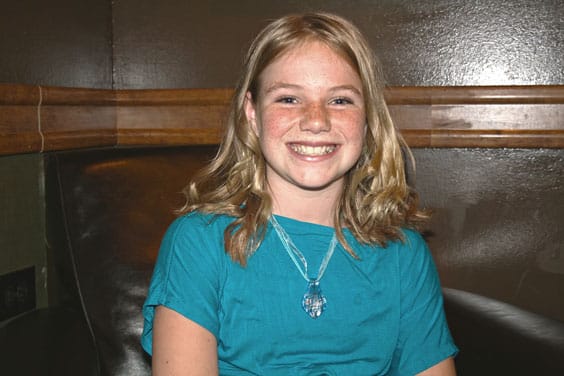 Nichole Loomis is an 11-year-old with a passion to implement change and better the world. She has launched a campaign to institute Siren Day to honor first responders and hopes to collect enough signatures to accompany a letter she has drafted for Colorado Governor Hickenlooper.
Article and photo by Elean Gersack
It was January of this year when Felicia Phelan's fifth grade class at Buffalo Ridge Elementary School (BRE) was assigned a writing project. The paper was to be about creating a new holiday.
In comes Nichole Loomis … a fifth grader at the time but anyone who meets her would say she is wise beyond her years – an old soul indeed. She is full of wisdom and has a keen ability to fill a room with hope and insight. On the day she presented her paper, she was full of nerves and also very eager. She read it aloud to Mr. Worth, a wonderful classroom volunteer in her class.
Phelan stood just outside the room and listened. As she did, her eyes filled with tears while her mouth dropped open and her breath was taken away. Loomis' idea was to dedicate a day to all of the emergency responders who give unselfishly to help others day in and day out. "I loved the thoughtfulness and compassion that I was hearing. She looked up with uncertainty when she was finished not realizing what an inspiring writing piece/idea she had created," shared Phelan.
While some of the other students wrote about things like Gymnastics Day, Pink Day, and Blondie Day – just to name a few and not to discount their ideas – Loomis was light years ahead figuring out a truly important day. She derived the idea by pouring her thoughts into her journal into the wee hours and brainstorming with her parents. She wanted to focus on first responders.
Ultimately, she came up with Siren Day, to be held on September 11, and dedicated to firefighters, police officers, paramedics and emergency room personnel. The date she chose was because it reflects the day first responders helped with the biggest tragedy of her lifetime and because the abbreviated date is also the same number used to call for help – 911.
"All first responders are special. They are really brave for risking their lives to help others," shared Loomis.
After presenting her paper, Phelan and Worth championed her idea and Loomis began to share her idea with other classrooms at school. She even drafted a letter to Governor Hickenlooper and began collecting petition signatures.
"Nichole has this natural ability to connect her learning to the real world, and because of this we are all brought together to benefit from it. She has a gift of being able to recognize issues in our world, empathize with the people involved and work on solutions," shared Phelan.
To date, Loomis has nearly 250 signatures on her petition. She hopes to collect 500 signatures before forwarding her letter and petition to the governor. Loomis hopes the governor will consider instituting the day in Colorado and eventually, Loomis would love to see Siren Day as a nationally recognized day.
As for the day itself, she sees it as a day to celebrate and thank first responders, not as a day off from work or school. Children in schools could make cards and send them to fire and police stations and hospitals. People could send safety reminders to friends and family to help avert other tragedies (like a reminder not to text and drive). She also hopes local restaurants might institute free or discounted meals for first responders on that day.
Loomis recently created an online document to collect additional petition signatures. If you would like to sign her petition for Siren Day, visit http://tinyurl.com/SirenDayPetition.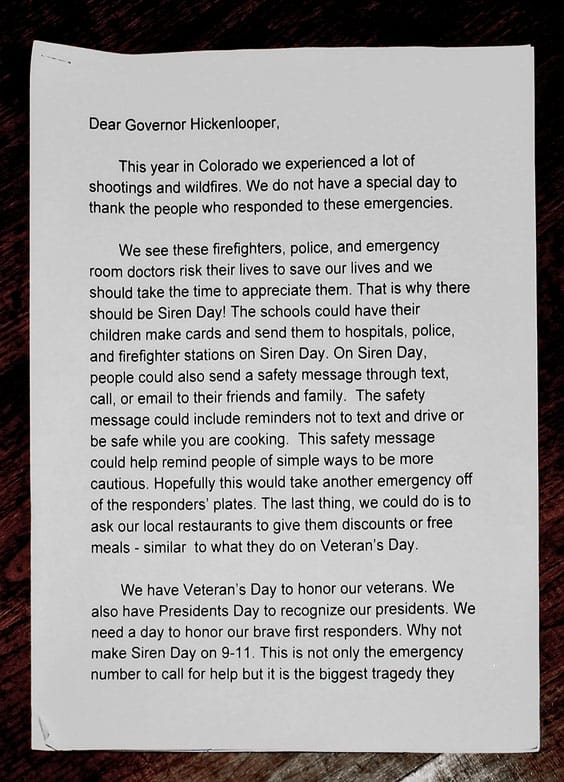 Loomis' letter to Governor Hickenlooper.