Cloudy with a chance of winning
July 1, 2013
/
/
Comments Off

on Cloudy with a chance of winning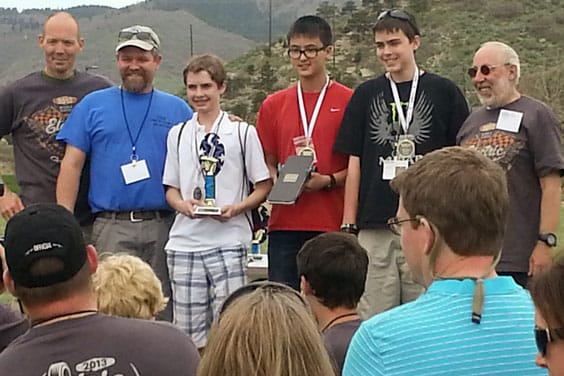 STEM team members Michael Whitaker, Rashid Zakirov, and Koby Dudley took first place in the NREL Junior Solar Sprint Car Competition – with a little help from some cloudy weather.
Article by Kathy Dunker; photo courtesy of Jason Dudley
On Saturday, May 18, three eighth-grade students from STEM School and Academy in Highlands Ranch – Michael Whitaker, Rashid Zakirov, and Castle Pines resident Koby Dudley competed in the National Renewable Energy Laboratory (NREL) Junior Solar Sprint Car Competition at Dakota Ridge High School in Littleton. Teams competed from 45 schools throughout Colorado and included 97 entries.
Competitor Koby's mom, Tracy Dudley, remarked, "While the kids put a lot of effort toward an efficient class project, Koby wasn't really taking the competition itself very seriously. In fact, he did not even tell us about the Solar Sprint Car Competition until 12 hours right before the event!"
Ironically, most of the groups went big on the gears for more speed from the sun. But in the end, the small geared vehicle created by Michael, Rashid and Koby triumphed because of cloud cover that moved in for the finals. That left the larger geared rivals without enough energy to move efficiently.
Dudley added, "I think the entire group, including the teacher and parents who attended, had a great time spending the day outside and finding out what their creation could really do!"