Christian youth group K-Life thrives in Douglas County
July 1, 2013
/
/
Comments Off

on Christian youth group K-Life thrives in Douglas County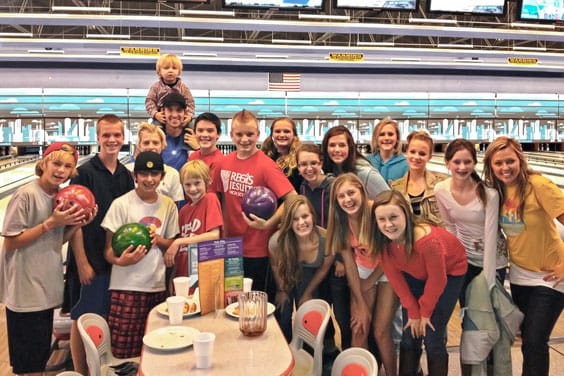 Many members of the Douglas County K-Life group recently participated in a fun day of bowling. Most of the kids pictured here live in Castle Pines, The Village, and Castle Rock and they have built close friendships outside of their schools.
By Amy Shanahan; photo courtesy of Holley VanBenthuysen
On August 24, Douglas County will officially welcome a new Christian youth ministry organization called K-Life. A fundraiser and information session will take place at The Grange in the Meadows in Castle Rock for anyone who is interested.
K-Life is a community-wide, interdenominational Christian organization for middle and high school kids. K-Life welcomes kids from all churches, and those without a church affiliation. Through a variety of activities like weekly clubs, small group Bible studies, mission trips, service days, and monthly events, K-Life kids grow in their faith and have fun at the same time.
K-Life began as a follow-up program for middle and high school kids who had attended one of the Christian and sports-based Kanakuk Kamps. K-Life quickly expanded into several states and came to Denver approximately ten years ago. The Denver chapter is now the largest in the United States, and it offers programs for youth throughout the year.
Four years ago, several families from Douglas County began the process of creating a satellite chapter locally with Castle Pines Village residents Holley and Karyl VanBenthuysen leading the effort. The VanBenthuysen's have five children, and their oldest kids were very active in K-Life. Their efforts have been so successful that they currently have thirty kids participating with a large wait list.
The VanBenthuysens, with the aid of Castle Pines Village resident Julie Jackson, Surrey Ridge resident Stacey Dowling, and others, are tirelessly working to fund an area director to oversee Douglas County in order to expand the group and take interested kids off of the wait list. Jackson's son Ryan has been a part of K-Life and really enjoys the friendships and opportunities it has presented. "Everyone in my group is really nice and Christian and kind to each other. It's really fun hanging out with everyone and also fun going out and doing service activities too!"
VanBenthuysen and the other parent organizers see a real benefit for kids in Douglas County. The middle and high school years can be very challenging for many kids and having trained volunteer leaders serve as mentors and guides may be of some help to many of them. "There are so many nurturing components of this organization," stated VanBenthuysen. The group leaders become true mentors and friends to the kids in their group.
To purchase tickets or for more information about the barbeque and information session on August 24, contact Holly Hlopak at hhlopak@mac.com.
For more info about K-Life in Douglas County, contact Holley VanBenthuysen by e-mail, holleyvb@gmail.com.