Chalk one up for BRE's fifth-graders
September 1, 2017
/
/
Comments Off

on Chalk one up for BRE's fifth-graders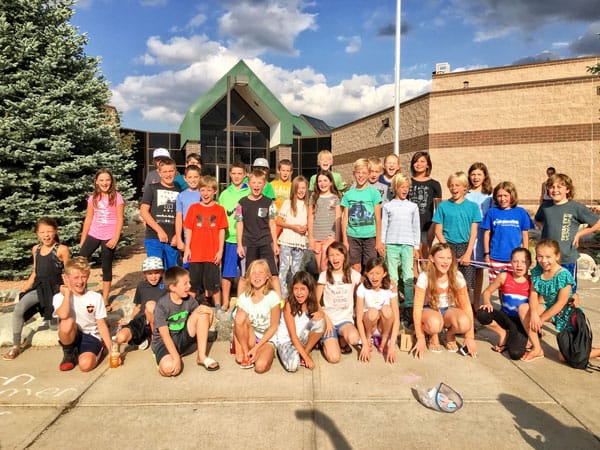 Dubbed the "Chalk Talk" event, roughly 35 fifth-grade BRE students came out on Wednesday, August 9 to chalk up the sidewalks with welcome messages and school spirit on the night before the school's first day.
Article and photos by Kathy Fallert
Buffalo Ridge Elementary (BRE) parent Katie Abner wanted to come up with a way to get the fifth graders involved in school leadership and possibly start a new school tradition. Abner's oldest son is among the fifth-grade class who will get to be the top dogs of the school this year.
Abner, a high school teacher, commented, "I see the rising seniors at the high school level get so pumped to be the leaders in their school. At many high schools, they go out and tag cars with senior spirit and fun school spirit messages. I thought this group of fifth-graders could share their BRE school spirit by using chalk on the sidewalks around the school to 'talk' to their peers and teachers on the eve of the first day of school."
Roughly 35 fifth-grade students chalked it up on Wednesday, August 9, sharing welcoming messages and school spirit, which was followed up with some well-deserved ice cream sandwiches. Abner concluded, "Who knows? This may be a new tradition that future fifth-graders can enjoy. It was wonderful to see the kids' excitement reuniting from the summer break and sharing in this positive leadership activity."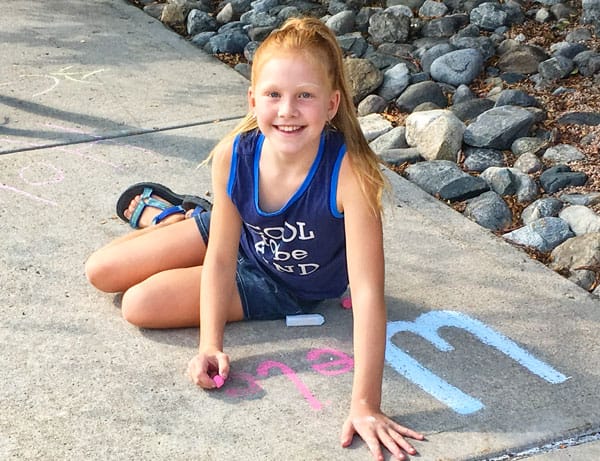 Fifth-grader Maddie K. chalked hard to create a very colorful "welcome" for kids and parents to enjoy as BRE went back to school last month.