Community responds to proposed Promenade Center East
September 1, 2017
/
/
Comments Off

on Community responds to proposed Promenade Center East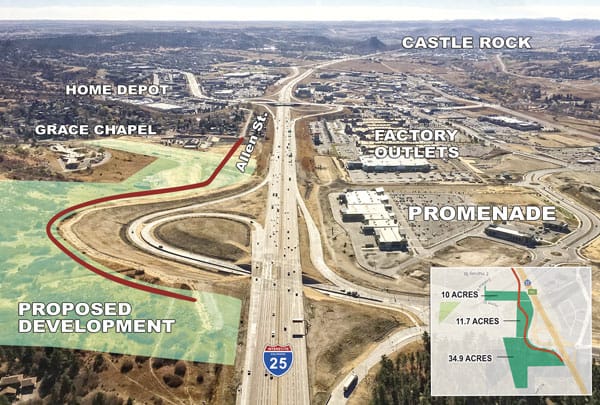 Alberta Development is requesting the Town of Castle Rock annex 21.7 acres of property on the east side of I-25 (across from its mixed-use development Promenade at Castle Rock) for Promenade Center East, a proposed new project that could include 475 multi-family units and/or 300,000 square feet of commercial development.

By Terri Wiebold; photo courtesy of Bob Wiebold
Alberta Development, Promenade at Castle Rock's commercial/retail project developer, facilitated a public meeting in August to provide a brief overview and answer questions from the public regarding its latest proposed commercial/retail project, Promenade Center East.
The 56.6-acre Promenade Center East property is located on the east side of I-25, just north of Founders Parkway in between the Happy Canyon and Silver Heights residential communities. Two parcels of the Promenade Center East property (21.7 acres) are within Douglas County's jurisdiction and the remaining property (34.9 acres) is within the Town of Castle Rock (Town). Alberta Development is requesting annexation of the two Douglas County parcels into the Town to be followed by plans to develop the property.
Approximately 150-200 residents from both of the communities and surrounding areas, as well as Douglas County and Town staff attended the public meeting held at Grace Chapel Church. Questions and concerns from residents included how the property will be accessed; existing and increased traffic congestion; skyline consideration; wildlife; water and sewer; the lack of geological, environmental, and traffic analysis studies; the possible annexation of Silver Heights and condemnation of ten homes; whether a PIF (public improvement fee) would be imposed; purchasing the property for open space and other issues.
Alberta Development stated that they plan to submit a formal annexation application to the Town within the next nine months.
To learn more about the proposed project, visit www.castlepinesconnection.com and type "Promenade Center East" into the search function. For questions about the project, contact Joe Fowler with Douglas County government at 303-814-4367 or email jfowler@douglas.co.us. For the Town of Castle Rock, contact Brad Boland at 720-733-3538 or email BBoland@crgov.com.aspx?PostID=979530&A=SearchResult&SearchID=5097627&ObjectID=979530&ObjectType=55 )