Chalkboards go high tech at local elementary
December 1, 2009
/
/
Comments Off

on Chalkboards go high tech at local elementary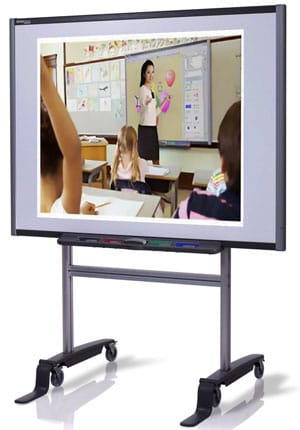 by Lisa Crockett
Gone are the days of chalk and erasers – or even markers and sponges. In a development that mirrors most other areas of daily life, students at Timber Trail Elementary (TTE) now spend their time in classrooms with chalkboards that are "smart."
These so-called "SMARTboards" are interactive whiteboards that allow teachers to manipulate information on the board in conjunction with classroom instruction.
For instance, a teacher giving a lesson about counting change can post images of coins on the board, and then move them from one space on the board to another to illustrate how to make change.
Teachers can also integrate the boards with classroom computers to facilitate use of computerized tools and illustrations as well.
"The biggest difference I have noticed in the first months of using a SMARTboard is how much easier it is to keep students engaged and excited about learning," said second-grade teacher Lyndsay Cummings. "They are more focused and love the hands on aspect."
The SMARTboards, which are now in every classroom at TTE, were funded in part by a grant from the Morgridge Family Foundation that was obtained by TTE teachers Cummings, Bill Richmond, Jill Alexander, Michelle Gerety and Building Resource Teacher Kristie Krier. Remaining funding for the boards was supplied by the Timber Trail Educational Alliance – the TTE parent/teacher organization.
"We received two SMARTboards from this grant. TTEA is purchasing 21 boards for the school!" said Krier. "These boards truly keep us on the cutting edge of technology."