DCS Montessori eighth annual Mystery History
December 1, 2009
/
/
Comments Off

on DCS Montessori eighth annual Mystery History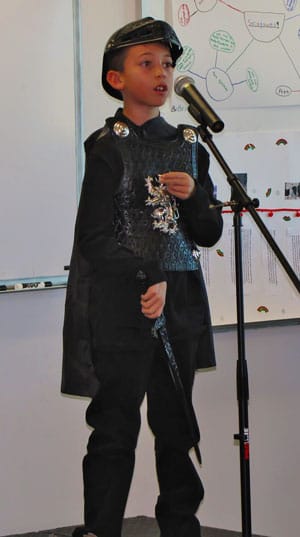 Daniel V. recites the life of a mystery figure from the Dark Ages

Article and photo by Tracy Dudley
Since the induction of Mystery History in 2001, once a year DCS Montessori students dress up as famous personalities from the distant past.
As part of this event, students choose historical figures from a given time period, research key facts about their lifetimes, dress up how the characters may have looked back then, and present brief orations to summarize their lives. At the end of every presentation, the featured speaker asks the audience, 'Who am I?', and allows parents and classmates to guess the character's name.
"It's a win-win-win situation. The kids get to dress up and have a party, while at the same time they learn how to research history and make oral presentations in front of a small audience," said teacher Glenn Albert, the mastermind behind the Mystery History tradition.
This year, the students dressed up as figures from the Dark Ages: 1000c.e. to 1599c.e. The crowd witnessed live biographies from many well-known celebrities, including King Arthur, Leonardo da Vinci, Cleopatra, King Richard the Lionheart, and Queen Isabella.