Colorado Thespian Society gives Valor theatre rave reviews
December 1, 2013
/
/
Comments Off

on Colorado Thespian Society gives Valor theatre rave reviews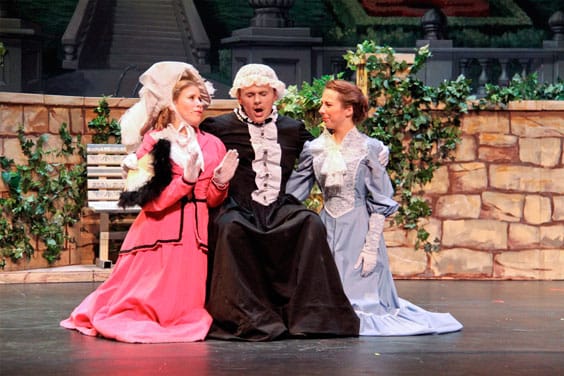 Charmed by the appeal of the man in drag played by Mason Aksamit (center), Maya Goodyear (left) and Elizabeth Palms (right), left audiences in stitches at Valor's performance of Charley's Aunt.
Submitted by Alyssa Montoya, Valor Christian High School; photo courtesy of Kurt Meunstermann
In October, Valor Christian High School's theatre department presented Charley's Aunt, a comedic play set at Oxford in the late 1800s. The play revolved around two college boys and their attempts to woo their respective ladies, with the help of their friend (posing in drag, as a female chaperone). Many of Castle Pines own students were among the cast and crew, and the play was a huge success, but it isn't over yet…
During the production, judges from the Colorado Thespian Society came to see the performances, and adjudicators came to all three of the performances to score the actors and their skills. The casts eagerly awaited the results and were thrilled when the society graced them with an almost perfect score.
So what does this mean for Valor Theatre?
Every year the Colorado Convention Center hosts the Colorado State Thespian Convention, or ThesCon, a three-day convention that hosts workshops of all kinds such as stage make-up, acting, lighting and improv. It brings theatre students from all over the state together, with more than 3,200 high school students in attendance for the 2013 convention.
Among the main events at the convention are the main stage productions, where two performances (a comedy and a drama) are recreated in front of the entire convention in Denver's Bellco Theatre. The honor to perform at this level is a theatre's equivalent to a state championship. Valor is honored to be sharing their comedic production with the rest of Colorado.

How does this affect former Castle Pines resident Mason Aksamit, the star of the production?
As he puts it, "I am lucky for the opportunity to be in a dress again!" His first time cross dressing, Aksamit played Lord Fancourt Babberly, who happens to be a man dressed as a woman. Kurt Muenstermann, the theatre teacher and director of the production was a little more serious in saying, "There will be students from all over Colorado seeing the quality of work that we do here at Valor, which reflects positively on the entire department."
The Colorado ThesCon convention will be held December fifth through the seventh, with Valor's performance on the fifth at 8 p.m. The performance will be open to the public and tickets will be available for purchase at the door for $25.