Community partners make noise; have fun
November 1, 2015
/
/
Comments Off

on Community partners make noise; have fun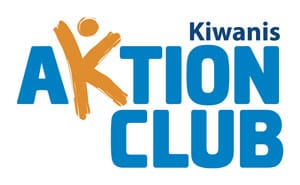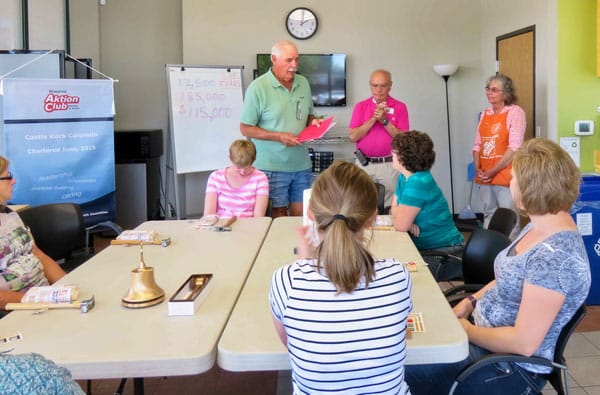 John "Alto" Altomari began the meeting by explaining Aktion Club accomplishments worldwide while Kiwanian Jack Zelkin and Sue Evans stood by. There are more than 400 clubs in eight countries with 12,500 members that volunteered 185,000 hours and generated $115,000 to donate back to the community.
Article and photo submitted by the Kiwanis Club of Castle Rock
One Native American definition of Kiwanis is "make noise, have fun." That is precisely what happened on September 15 when the Kiwanis Club of Castle Rock (KCCR) joined forces with Wellspring Community and Home Depot to sponsor the Aktion Club, a Kiwanis International program for adults with disabilities. The group did lots of hammering, smiling and even some giggling while building mini-crate pencil holders.
Aktion clubs draw members from various organizations that support individuals with disabilities, as well as other community programs. Aktion clubs can also be established at churches, libraries, YMCAs, lodges or similar facilities. A Kiwanis club composed of like-minded, service-oriented people from the community serves as the sponsor. Meetings begin with the Pledge of Allegiance, a patriotic song, and a prayer. Members conduct a short business meeting, followed by a community service project.
Home Depot donated the mini-crate kits for the Aktion Club members to assemble. Sue Evans from Home Depot was on hand to provide instruction and guidance about the assembly of the kits. The kits were various sized pieces of wood that required assembly and nailing. The hammering on plastic tables was thunderous.
"Kiwanis members are engaged with these happy people to provide a learning ground for the development of leadership, organizational and service skills," stated Kiwanian Jack Zelkin. "These successes are the direct result of the boundless imagination and leadership of John 'Alto' Altomari, a long time member and leader in our Castle Rock Kiwanis Club. As a direct result of Alto's ability to energize people, the Aktion members are proving that their capabilities are beyond their physical and intellectual limitations," he stated.
Aktion motto: "Where development has no disability"
To learn more about Wellspring Community, visit www.wellspringcommunityonline.org.

To learn more about KCCR, visit www.kiwanisatcastlerock.org or, better yet, join them for breakfast every Thursday (except holidays) at 7 a.m. at the Village Inn in Castle Rock.