A flair for the dramatic in displays delights neighbors
November 1, 2015
/
/
Comments Off

on A flair for the dramatic in displays delights neighbors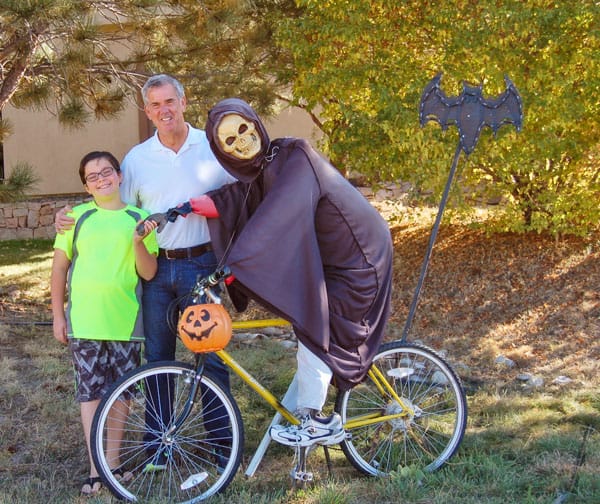 Castle Pines Village resident Mike Lanam enjoys making larger than life-size characters which he displays in his backyard for the holidays. Lanam is seen here with his son Brennan alongside his bike-riding grim reaper which is featured each Halloween.

By Amy Shanahan; photos by Amy Shanahan and courtesy of Mike Lanam
Kids and adults alike throughout Castle Pines Village (CPV) have an extra reason to look forward to the holidays each year. Resident Mike Lanam treats his neighbors to an amazing display of holiday spirit beginning at Halloween and ending at Christmas. The Lanam's backyard is visible from the main road that circles CPV so his amazing creativity is on display to anyone driving by.
What started as a bit of a joke 12 years ago has become a labor of love for the retired law enforcement officer and security specialist. Lanam's neighbors were building their home and scrap wood was in great supply. Lanam teasingly threatened to create a scarecrow to resemble his neighbor but instead created a pair of elves based on Mary Engelbreit characters, which he displayed in his backyard at Christmas. The following year, Lanam did create the scarecrow and more characters, and holidays were added each year. He now features more than 12 characters at Christmas alone.
Lanam creates each character by hand out of plywood that he paints and jigsaws. He adds new figures every year and now takes requests from neighborhood kids who have their own ideas about who they would like to see displayed. "Last year, the neighborhood kids asked me to create Olaf from the movie 'Frozen' for Christmas, and I had no idea who that was!" remarked Lanam. "I don't have a pattern or any plan; I just try to capture what people think of when they think about the different holidays." As an example, several years ago Lanam added Elmer Fudd and Bugs Bunny to his turkey and Thanksgiving display for the enjoyment of older generations. Although many of the characters are taken from popular stories, Lanam enjoys adding in fun and crazy characters that he creates, like his skeleton decked out in Broncos gear and the grim reaper riding a bike that are on display at Halloween.
The characters each stand approximately seven feet tall in order to make them visible from the road. Lanam enjoys switching things around each year in order to keep people guessing, and his wife Susan and son Brennan (10) help ensure that it all looks good. The Christmas display takes approximately eight hours to set up, but Lanam wouldn't change a thing. "The reaction of our neighbors brings me the most joy. I was always concerned that people would be upset but the reaction is so positive and now cars stop and people yell 'thank you.' The kids especially pay attention and wait for the decorations to come up," stated Lanam.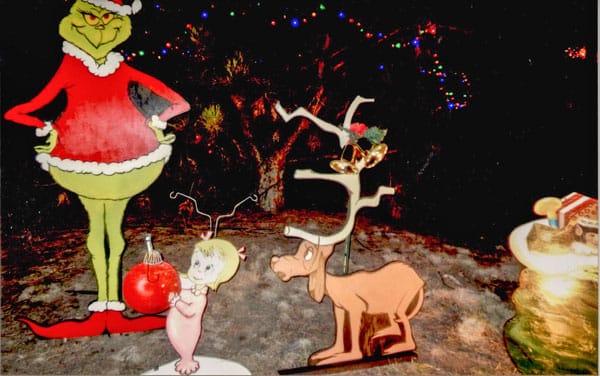 Santa and his sleigh and the Grinch and Cindy Lou are just are just some of the more than 12 characters that Lanam has created and displays each Christmas.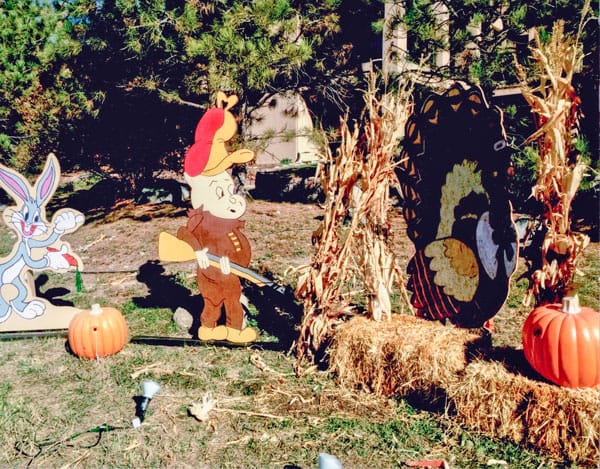 Lanam added Bugs Bunny and Elmer Fudd to his Thanksgiving display to appeal to adults who grew up with these lovable characters.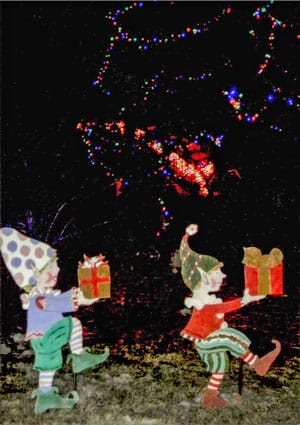 These two gift giving elves based on Mary Engelbreit characters were Lanam's first foray into creating wooden characters to display at the holidays.