Castle Pines Junior Youth Group focuses on service and virtues
November 1, 2015
/
/
Comments Off

on Castle Pines Junior Youth Group focuses on service and virtues
Members of the Castle Pines Junior Youth Group took part in the Justice Run at Hudson Gardens on October 4. The event supported efforts to fight human trafficking. This is just one of many service projects the youth group supports. Yasmine Lamé, the group's leader, is pictured third from the left, and her brother, Kian, is in the front row with their mom, Neda.

Article and photo by Elean Gersack; courtesy photo
Castle Pines resident and Valor High School senior Yasmine Lamé is passionate about giving and the future of our youth. Two years ago, she started the Castle Pines Junior Youth Group as a way to inspire younger children to grow, give and focus on what truly matters. The group has flourished since then thanks to her passion and leadership.
Part of the inspiration for the group came from Lamé's younger brother, Kian, who has cerebral palsy. Watching interactions with him shift from endearing in elementary school to less engaging in middle school made her recognize the unfortunate change of behaviors for some during the teenage years. Realizing that the early teen years are a pivotal time for developing life long characteristics, Lamé decided to rally neighborhood kids in Daniels Gate on Sunday mornings with lessons in virtues and service.
Lamé's mom, Neda, is very proud of all that her daughter has poured into this group – which she says stems from her love for humanity. The group has grown over the years and has no race or religion focus. Rather, all are welcome to this group determined to give back and celebrate the importance of things like honesty, unity, and diversity.
Lamé spends about five to ten hours each week preparing lesson plans and service projects. Her tenacity and steadfast commitment to these kids is evident as she juggles this on top of a heavy school workload where she is president of her science and Rotary clubs, speaks five languages, and participates in the medical career collaborative program at Children's Hospital Colorado.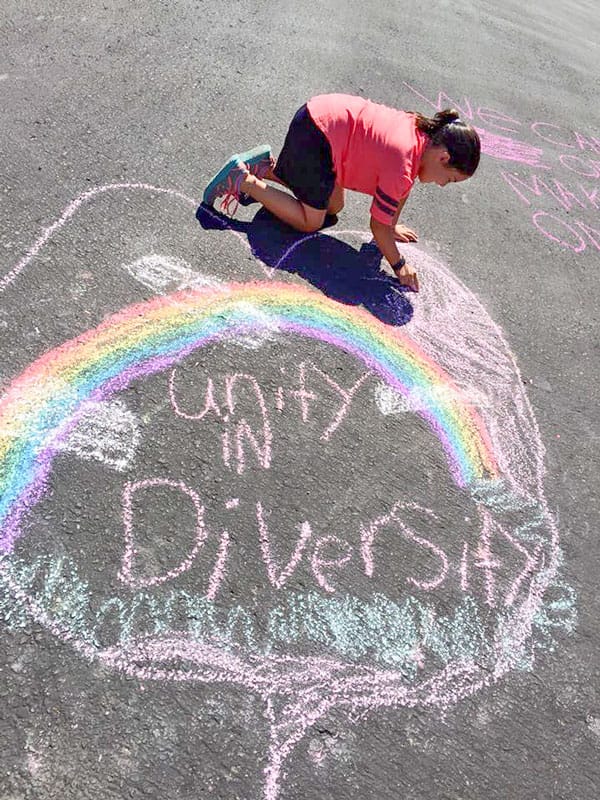 Street art virtues, courtesy of Castle Pines Junior Youth Group.
The Castle Pines Junior Youth Group service projects have included baking dog treats with sales supporting The Buddy Center in Castle Rock; doing crafts with patients at Children's Hospital Colorado; collecting supplies for Project CURE "Kits for Kids"; supporting the Justice Run to eradicate human trafficking; creating street art to celebrate positivity; spending a week offering random acts of kindness; and hosting fall festivals with proceeds supporting Children's Hospital Colorado.
Sriya, a member of the Castle Pines Junior Youth Group and a student at Rocky Heights Middle School shared, "I like helping other people. It feels like I am giving off a part of me." Lamé is humbled by the growth and commitment of the kids. "I've learned more from these kids than I have taught them," said Lamé.
The next service project for the group is Fall Fest at the Daniels Gate clubhouse on Sunday, November 15 at 4 p.m. Tickets are $5 for carnival games, prizes and food. All proceeds will benefit Children's Hospital Colorado. All are welcome to attend. Tweens and teens interested in joining the Castle Pines Junior Youth Group can contact Lamé at yasmine.lame99@gmail.com.